The Exploding Life of Scarlett Fife: Book 1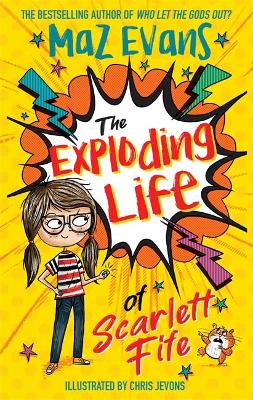 By Author / Illustrator
Maz Evans
Genre
Funny Stories
Age range(s)
7+
Publisher
Hachette Children's Group
ISBN
9781444957679
Format
Paperback / softback
Published
13-05-2021
Synopsis
Scarlett Fife has BIG feelings. And she's about to get into BIG trouble. From the bestselling Maz Evans comes a heartfelt and hilarious new series, perfect for fans of Roald Dahl's Matilda.

'So funny, you'll explode with laughter' Sam Copeland, author of Charlie Changes into a Chicken

Scarlett Fife has BIG FEELINGS. And when she has BIG FEELINGS, they explode out of her like an over-squeezed stress ball.  Scarlett's in big trouble after a BIG FEELINGS episode leads to a runaway hamster getting into the vicar's trousers at her aunty's engagement party. If she loses her temper ONE MORE TIME, she's going to miss out on her trip to Mega Awesome Sicky Fun World, the best theme park on the planet.

But feelings are like slime in a party bag. No matter how much someone tells you to keep it in, it'll always find its way out. And very soon, Scarlett notices that every time she pushes her feelings down, something explodes. Like ... really, properly explodes.  It might be her teacher's slimy green smoothie. A huge pot of purple paint. Or a massive pile of elephant poo at the zoo. And let's hope Scarlett doesn't get mad at Aunty's wedding - that wedding cake is HUGE ...

Laugh-out-loud action for every child and parent who has ever lost control of their feelings - this is sparkling, heart warming and beautifully illustrated throughout by the fantastic Chris Jevons.
Reviews
Megan
Scarlett Fife has Big Feelings, which can sometimes get her in trouble. She had been working extra hard to control her anger so she could take the class hamster, Mr Nibbles, home. However, one Friday, William U is unfairly awarded eight Positivity Points, meaning that he is the one to take Mr Nibbles home for the weekend. The unfairness mixed with William U rudely rubbing it in Scarlett's face becomes all too much, causing her to snap. Surely being punished with no screen time, no sweets, no sleepovers, no discussions of ever having a pet, no fun is awful enough, but things keep getting worse for Scarlett Fife. Until one day, while trying to earn some Positivity Points, these Big Feelings get too big and explode out of her, literally.
The Exploding Life of Scarlett Fife has a great balance of important topics and humour. I absolutely loved this book. The characters are brilliant and reflective of the world we live in. It would make a great read for helping children understand that having these Big Feelings is okay, and there are many ways to help us cope with them. I recommend this book for any class in KS2. It would make a hilarious whole class text.
240 pages / Reviewed by Megan Webb, teacher
Suggested Reading Age 7+
Jennifer
An Engaging and exciting story which is full of hilarious humour and heart whilst tackling important wellbeing issues, such how to manage and harness (perfectly normal) feelings of anger without tempers (or smoothies and paint) exploding!
Nine year old Scarlett is touchy, feisty and bold but ultimately endearing and totally relatable. A brilliantly diverse set of endearing and appealing characters, madcap moments and a fantastically funny plot.
240 pages / Reviewed by Jennifer Caddick, teacher
Suggested Reading Age 7+
Natalie J.
The Exploding Life of Scarlett Fife begins a new series by the author of the Who Let the Gods Out? series. This illustrated stream-of-consciousness chapter book for older primary children is about Scarlett, who, when she loses her temper, makes things like a cake explode. She needs to control her temper or a special trip will be cancelled. This is difficult when contending with issues including a bullying spoilt classmate, a mother with financial problems, her jealousy over the new girl, and a scary new teacher. Plus, Scarlett is a literal person, she doesn't like language because things don't always mean how they sound, and this confuses and upsets her. She prefers maths much more and each chapter's heading reflects this - it's a sum which equates to the chapter's number.
There are parallels to Roald Dahl's Matilda with the central character having a telekinetic ability and Scarlett's new teacher is depicted (even illustratively) as a Miss Trunchbull character. Like Dahl, there are also little instructional moments, but here they seem heavily directed towards an older reader such as how most adults need a listening, not hearing, aid to help them listen to children. I often wondered what the intended ten-year-old reader (as Scarlett is) will think of the teaching assistant/parent governor blatantly using her position to help her bullying son evade punishment?
However, with slapstick humour, diverse characters, a magic realism element, and an interesting theme of how to deal with emotions such as anger, this is an enjoyable read.
240 pages / Reviewed by Natalie Plimmer, librarian
Suggested Reading Age 9+
Other titles