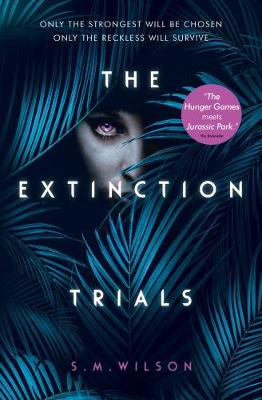 By Author / Illustrator
S.M. Wilson
Genre
Dystopian
Age range(s)
11+
Publisher
Usborne Publishing Ltd
ISBN
9781474927345
Format
Paperback / softback
Published
28-12-2017
Synopsis
In Stormchaser and Lincoln's ruined world, the only way to survive is to risk everything. To face a contest more dangerous than anyone can imagine. And they will do ANYTHING to win. But in a land full of monsters - both human and reptilian - they can't afford to trust anyone. Perhaps not even each other...
Reviews
Linda
This book grabbed my attention even before I started to read it... it has a mysterious reptilian cover that wills you to open the pages to begin and then, before you get to the first chapter the reader is greeted with a map, (love a map, of a new unexplored fantasy world) it may be a basic one, but once again it encourages and excites you to begin an adventure that I'm positive you will not be able, like myself, to put down. Stormchaser is a young teenage girl who lives in the over populated world of Earthasia, where there is little medical care, food and housing. She is an orphan who lives in a shelter along with many other people like her. She has only one friend, Dell, who treats her like family, and is the only person who would miss her. Lincoln also lives in this over populated world. He lives in the dark, damp caves with his mom and gravely ill sister. They both have their reasons for taking part in the trials to go to another continent in this fantasy world, called Piloria. This is a dangerous place as it is the home of the dinosaurs, where previous finalists have failed to come back. In order to win the rewards of extra food and medical care all they have to do is retrieve a few dinosaur eggs... sounds simple!!! This is a 380 page rollercoaster of a ride, it's full of twists and turns that will keep any reader of 10+ , even reluctant reading boys, totally engaged. This fast paced, high stakes adventure would also be great for intervention groups or book clubs. The book does contain scenes of death and violence, but nothing in-depth or too gory, it all adds to the realistic atmosphere of the adventure. The duel narrative between Stormchaser and Lincoln also helps the reader engage and empathise with their decisions as they get to know more about them as the adventure unfolds. The author's excellent writing has you competing alongside them for survival on this beautiful but dangerous continent. Will they return with the prize? Who will take the rewards? Can the dark cloaked Stipulators be trusted? And just why does Reban Don, the Chief Stipulator, watch Stormchaser extra closely? You are just going to have to get a copy and read it for yourself, please trust me, you will not be disappointed. On the cover of the book there is the following quote... 'The Hunger Games meets Jurassic Park'. I'm always a little wary of these type of claims, but not this time, it's spot on and I'm truly glad that I have now got book 2, Exile, so that I can dive straight in and continue my journey with these amazing characters. Hope to get another dose of the dinosaurs, whether they are dangerous or harmless. 384 pages / Ages 10+ / Reviewed by Linda Brown, school librarian
Suggested Reading Age 11+
Jenni
Earthasia is in trouble, there is not enough food or medical care to go around. The only solution is to look for a way to kill the Dinosaurs that inhabit Piloria so they can take over the land they protect. Written from two alternating points of view, Lincoln (who wants to save his sister's life with access to vital health care) and Stormchaser (who just wants to escape), both are risking their lives for the chance to make their lives better. Definitely one to recommend to fans of The Hunger Games and a good fit for the dystopian genre. Suitable for secondary age students. 380 pages / Ages 12+ / Reviewed Jenni Prestwood, school librarian.
Suggested Reading Age 11+
Other titles