The Five Clues (Don't Doubt The Rainbow 1)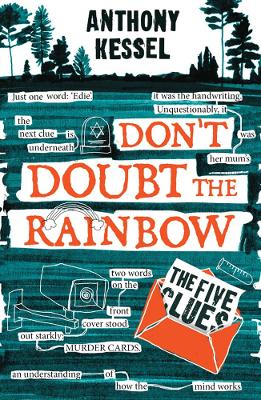 By Author / Illustrator
Anthony Kessel
Genre
Mystery & Detective
Age range(s)
11+
Publisher
Crown House Publishing
ISBN
9781785835551
Format
Paperback / softback
Published
02-08-2021
Synopsis
The first book in the series, The Five Clues, is a real-time murder-mystery thriller and family drama, combining an exciting race against time with a heart-rending story about a teenager learning to live with the loss of a beloved parent.
Walking back from her mother's grave, 13-year-old schoolgirl Edie Marble finds a note in a pocket of the sheepskin coat that she hasn't worn since the day, a year earlier, when she received the awful news of her mother's death. The note is from her mother, who had been looking into a corporate human rights violation and had become fearful for her life after receiving death threats. She trusts only Edie - because of their special bond and Edie's intelligence - and has laid a trail of clues for Edie to find that will help her to shed light on the violation and uncover the mystery around her death.
Through her wit and determination, Edie steadily gathers evidence and negotiates the dramatic twists and turns of the story by collaborating with her friends and family to gradually unearth a sinister attempt by a pharmaceutical company to conceal their illegal development of a lethal virus. As Edie's investigations progress she is introduced, in parallel, to the Three Principles, which help her conquer various psychological stresses and support her in coming to terms with her grief. 
See also: Outside Chance (Don't Doubt the Rainbow 2)
Find out more from author Anthony Kessel
Reviews
Stephen
'If you are reading this now, it means something dreadful has happened to me'...
Mysteries, messages, cryptic clues, family, kidnap and corruption all feature in this thrilling teen novel by Anthony Kessel. When thirteen year old Edie finds a note in her jacket she quickly realises it's from her mother who died a year earlier. The note gives Elie one of five clues that will lead her to information about an investigation her mother was undertaking, one which may have caused her death, a death Edie begins to see as deliberate not an accident? Determined to solve the cryptic clues and find her mothers research Elie starts on her quest, a quest that will put her and those she loves in danger, as from the shadows she is being watched and someone will stop at nothing to keep her mothers research a secret.
I found this novel a really interesting and enjoyable read. It starts off slowly but stick with it as soon the tension, intrigue and adventure start to ramp up! I thought the clues were great and even though some of the situations Elie finds herself in seemed a little far fetched at times, the excitement still pulled me along, wanting to know how these situations would turn out, with Elie and her friends looking for clues at the train station being a particular highlight for me!
The book also features a map of the main area of London the book is set so you can get a better idea of locations and layout and enhance the reader experience. The book does deal with lots of different themes including death and grief, mental health, friendship, depression and corporate crime. Each is handled well in the book and I felt the portrayal of Edie's dad and what he was going through was very insightful. Also that we all deal grief in different ways and at different times. If used with a class these issues in the novel could be used as starter points for further discussion.
I would say that personally I felt aspects of the story could have been shorter but you may decide other wise, and this doesn't detract from this being an exciting and enjoyable read. Over all an engaging novel that will gradually pull you in and have you rooting for the Elie and her quest for the truth!
336 pages / Reviewed by Stephen Leitch
Suggested Reading Age 11+
Shirley
Murder, mystery, clues to solve, and a brilliant courageous character, what more could you want in a book?
In The Five Clues, Edie finds a note, left by her Mum to her, which leads Edie to question her Mum's death. It's the first of five clues her Mother has left her to solve in order to find out why she died, but the quest is fraught with danger for Edie.  
The cover of the book is reminiscent of blackout poetry, I was 'hooked' from that alone. The inside cover has a map of the area, which is always great to visualize the scene as it unfolded. It doesn't disappoint, a slightly slow start turns into a non-stop page-turner of the best kind. Edie is a smart yet vulnerable character, it was easy to relate to her family situation, grieving and trying to find a way to keep going.
The book touches on understanding mental health, science, human rights, and ethics, but is gauged at the right level for the reader's understanding. I would recommend this book for everyone over 11 years, adults as well, it left me feeling positive and uplifted, and I'm looking forward to the next adventure with Edie!
336 pages / Reviewed by Shirley Munn, school librarian
Suggested Reading Age 11+
Ruth
The Five Clues is a page turning mystery which immerses the reader in the world of ethics and science. Edie is secretly left a set of clues by her activist mother in the event of (what turns out to be) her suspicious death. She uses her natural intelligence and her close relationship with her mother to understand and solve the cryptic conundrums her mum set enabling her to understand the questionable work of an international pharmaceutical business.
Edie turns to her family and friends for help as the mystery deepens and solving it leads to increasing danger. Edie Marble is a strong character who drives the fast pace of this thriller but she is also grieving the sudden death of a parent and the family's forced return from abroad.
This book, written by a doctor, uses his knowledge of the Three Principles; a framework with which to understand how the mind works. Professor Anthony Kessel interweaves these concepts to help support Edie's psychological wellbeing as she grieves the loss of her mother and copes with the stress of the deadly investigation.
The Five Clues was written before the Covid-19 pandemic but offers an compelling narrative where a virus threatens the wellbeing of the human race. It is the first in a series of four middle grade detective stories and I highly recommend it to secondary school students who enjoy a book combining courage and conspiracy!
This book contains issues that may trigger readers: bereavement, threat
336 pages / Reviewed by Ruth Cornish, school librarian
Suggested Reading Age 11+
Other titles