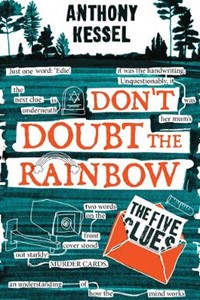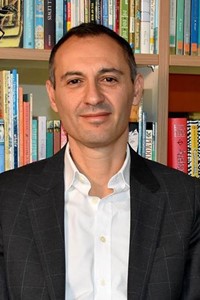 About Author
Professor Anthony Kessel is a public health physician, academic and author. Since 2019 Anthony has been working in a national role as Clinical Director (National Clinical Policy) at NHS England and NHS Improvement. Anthony is an international authority on public health, a Trustee director of BookTrust, and also advises other charities on global health and mental health. Anthony has trained as an executive coach and writes a personal column 'Global Health Experience' - exploring his leadership work through a lens of psychological well-being.
Read a chapter from The Five Clues
Interview
Don't Doubt the Rainbow:  The Five Clues (Crown House)
August 2021
When Edie discovers that her mother, who died a year previously, might have been murdered, it sets in trail a series of questions that Edie must solve through clues left by her mother. At the same time, the mystery helps Edie come to terms with her loss. Author Anthony Kessel tells us more about The Five Clues:
Q&A with Anthony Kessel
1. What brought you into writing for children? What is your 'day job' and has it helped at all with this novel?
I have always loved reading and have always loved writing - from as long ago as I can remember to the present day. As a young child I would be lost in a book in my bedroom while the family watched TV, oblivious to their shouts to join, and can recall winning a school short story competition when I was seven with a tale I created about a Viking walking into a modern day town. My mum was so proud.
Through my professional career I have written countless academic articles, book chapters and magazine reports about public health and medical ethics, until diverted towards children's fiction. I published a book for younger readers in 2013, The Amazing Adventure of Perch the Cat, and The Five Clues is my first book for children aged 11+.
In my day job I work as Clinical Director responsible for National Clinical Policy in the NHS, and am also a university professor. During the Covid-19 pandemic I had responsibility for creating the UK-wide policies for drugs used to treat patients with Covid infection. I am also Covid expert advisor to the UK film/TV industry, Senior Public Health Advisor to the Football Association (FA) and support a number of charities.

2. What is your new series, Don't Doubt the Rainbow, about - and why did you choose this title?
The Five Clues is the first book in the four-book 'Don't Doubt the Rainbow' series. The protagonist throughout is 13-year-old detective, Edie Marble, but this is not a run-of-the-mill detective series. Each book - an adventure story in its own right, following approximately three months after the previous - explores different psychological themes relevant to the age-group. The settings are London and south-east England (Books 1 and 2), London, North America and Poland (Book 3), and London and Yorkshire (Book 4).
In addition to the distinctive adventure of each book, threaded through the series is a new approach to understanding 'how the mind works' that is currently proving invaluable to improving mental health and wellbeing in children.
The series title was inspired by a story about 'keeping the faith', told live on stage at a music festival by Wayne Michael Coyne, lead singer of The Flaming Lips.

3. Can you tell us a bit more about the first book, The Five Clues? 
Set in and around London over four weeks, The Five Clues is a real-time murder-mystery thriller and family drama, combining an exciting race against time with a moving examination of a teenager learning to live with the loss of a beloved parent.
The book centres on 13-year-old detective Edie Marble who discovers, at the stone-setting ceremony at the cemetery, that her mum's death a year earlier was perhaps not an accident. Picking up her mum's dangerous case as a human rights investigator, Edie uses her own wit and determination to solve clues, decipher the trail and outsmart brutal villains. Ingredients include murder, a hitman, and a ruthless public health conspiracy.
This is not a fantasy or dystopian book, but is grounded in the real world and present day. I wrote the first three chapters a decade ago, but they sat on a shelf while I published the cat book. Most of The Five Clues was written over the past four years.

4. Did anything in particular help inspire the story?
The idea behind this book - a child who has to crack a series of clues left behind by her mother to solve a crime - came to me over a decade ago: I can't tell you exactly how, but the thought factory in our brains holds limitless creativity and generously provided the seed of this book. The first few chapters, written at that time, gathered dust until I eventually returned to The Five Clues, which has since morphed into the four-book 'Don't Doubt the Rainbow' series.
5. Why did you want to explore bereavement in the story through Edie, whose mother did suddenly a year previously?
Death is an inescapable part of life. For children, death of a grandparent or pet is often their main exposure, but this is sadly not always the case. As tragic as the death of Edie's mother is, I wanted to explore the impact of the fears and stresses around death in relation to the actual happening.
Human beings cope better with eventualities (the actual death) than managing their own thoughts and fears around death. In the book, Edie becomes a crusader and, through her mother's death, manages to push on with her own life - in fact, rather dramatically so. Having lost both of my own parents, I also wanted to illustrate how we never 'get over' a bereavement, but we can learn to live with the loss.
Through examination of a very significant life event, death also provides a gateway in the book/series to examine how human beings can best navigate life's inevitable challenges, and indeed how they can flourish.

6.  Why did you decide to make this a detective story?
I have always loved the idea of solving things - not necessarily a maths problem at school, but solving clues, riddles and puzzles, and working out how tricks are done.  Indeed I still do the Observer cryptic crossword every Sunday! Plus, I like mysteries and crime adventures. Put this all together and you've got an adventure story, a Hansel-and-Gretel set of clues, and a young detective heroine who unearths a devious conspiracy and gets the better of brutal villains!
7. Were you writing the book - which features a possible flu virus - before or during the Covid pandemic? 
The Five Clues was conceived and (almost completely) written before the Covid pandemic. The book includes a public health viral outbreak because I draw on my own professional experiences as a public health leader, which includes managing many outbreaks in the UK (such as swine flu, meningitis and TB) and overseas (e.g. the Ebola epidemic in West Africa).
Those real life challenges have very much guided the book, and I have tried to make the context as medically accurate and realistic as possible.
8. You feature the Three Principles in The Five Clues - what are these and why did you decide to explore them through a story?
The Three Principles is an understanding of how the mind works, and thereby an understanding of how we experience life - moment by moment and day by day. This understanding of how the mind works describes three fundamental elements or 'principles' - thought, consciousness and mind - and how these principles combine to create our experience of life. When we understand how we generate our experience of life, we realise that we have the ability to reduce psychological distresses (e.g. stress, fear, compulsions, pressure, and discouragement) and uncover our inner well-being.
The Three Principles understanding sets people free from attachment to the contents of any particular thinking with the knowledge that thoughts naturally come and go. The understanding liberates people to see their state of mind - their felt response to perceived reality - as an indicator of the moment-to-moment quality of their thinking. A stressed or negative feeling state, or state of mind, produces a low mood and increasing tension, a feeling of insecurity or dis-ease (whereas a more positive feeling state does the opposite). A negative feeling warns us to allow our thinking to quieten down and, as that happens, our feelings change and our perceived reality changes.
When we get caught up in negative thinking or struggle to fight upsetting thinking, we can easily find ourselves lost or stuck in stress and distress. As people learn to trust their state of mind as a guide through life, they catch themselves earlier and earlier in the process of insecure and negative thinking (which otherwise can lead to chronic stress, anxiety or depression). As our minds quieten, we naturally regain our ability to address life circumstances and challenges from a wiser, more optimistic and hopeful perspective.
I have published a short piece providing more information on my Medium site


9. What would you like your readers to take from The Five Clues?
First and foremost, an enjoyable and exciting experience - a book that you don't want to put down, that when reaching the end of one chapter you have to read the next. As I know from sitting on the board of the charity BookTrust, reading is valuable to children in so many ways, regardless of what they read: books inspire, enhance creativity, provide a peaceful space, and engender learning and development while promoting life chances.
However, I hope that The Five Clues will give much more to readers that just the benefit of a book enjoyed and completed. My intention is to provide an adventure that is also poignant and touches readers' hearts, illustrates real-life examples of tackling adversity head-on, and offers readers some tools to support them through the challenges in life that we all inevitably face - and enables children to flourish and be the best possible version of themselves.
10. Can you tell us what's next for Edie?
Book 2 in the 'Don't Doubt the Rainbow Series' is called Outside Chance, and takes place three months after Book1 has ended. In Outside Chance, young detective Edie Marble encounters a whole new major adventure and crime to solve, with a potentially devastating incident in London that Edie tries to avert.
Sub-stories within the book include Edie's other detective cases - missing dogs, exam fraud, and disappearance of a school-friend - as well as Edie grappling with the nature of fate and things happening in life beyond our understanding and control. Expect a roller-coaster adventure and exploration of the meaning of life all rolled into one!
11. What do you most enjoy doing when you're not at your desk?
I hugely enjoy my NHS and public health work, but writing is my passion. For me, being 'in the (creative) zone' is a peaceful, relaxing and enriching experience, where the mental chatter of the external world evaporates and I feel connected to a deeper sense of self. Sports give me great pleasure and a buzz, and I continue to play football, run, cycle and swim. I read a lot, fiction and non-fiction, do mindfulness meditation every day, and I love good TV shows and the cinema.
Music, though, is a big part of my life: I listen to music all the time, old and new, and love the energy of live gigs. I've missed seeing bands on stage during the pandemic. There is an Edie Marble Spotify playlist for each book, with songs carefully selected as relevant to the story. Here's The Five Clues playlist. 

12.  What kinds of books do you enjoy reading?
I read a lot of fiction, and some non-fiction. Adult fiction has to be well-written, gripping and poignant. Recent children's fiction that I've enjoyed includes: The Hate U Give (Angie Thomas); A Good Girl's Guide to Murder (Holly Jackson); The Good Thieves (Katherine Rundell); Mind the Gap (Phil Earle); and Kite Spirit (Sita Brahmachari).
Regarding non-fiction, the brilliant A New Earth: Awakening to Your Life's Purpose (Eckhart Tolle), is one of the most important books for humankind ever written - for both adults and older children.
Author's Titles