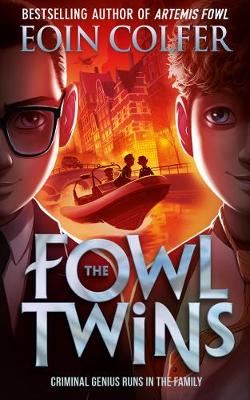 By Author / Illustrator
Eoin Colfer
Genre
Magical Realism
Age range(s)
9+
Publisher
HarperCollins Publishers
ISBN
9780008324858
Format
Paperback / softback
Published
09-07-2020
Synopsis
Criminal genius runs in the family...
Myles and Beckett Fowl are twins but the two boys are wildly different. Beckett is blonde, messy and sulks whenever he has to wear clothes. Myles is impeccably neat, has an IQ of 170, and 3D prints a fresh suit every day - just like his older brother, Artemis Fowl.
A week after their eleventh birthday the twins are left in the care of house security system, NANNI, for a single night. In that time, they befriend a troll on the run from a nefarious nobleman and an interrogating nun both of whom need the magical creature for their own gain . . .
Prepare for an epic adventure in which The Fowl Twins and their new troll friend escape, get shot at, kidnapped, buried, arrested, threatened, killed (temporarily) . . . and discover that the strongest bond in the world is not the one forged by covalent electrons in adjacent atoms, but the one that exists between a pair of twins.
The first book in the blockbusting new series from global bestseller Eoin Colfer.
Reviews
Carol
The Fowl Twins is the 'first book of the second cycle of Fowl Adventures', meaning we are back in the world of Artemis Fowl, Eoin Colfer's long-running MG series about a child criminal genius and his adventures with the fairy realm, but this new series focuses on the exploits of the now-adult Artemis's younger twin brothers.
Myles and Beckett may look almost identical (providing plenty of opportunity for twin-swap hijinks ahead) but, personality-wise, they are as different as twins can be. Miles is highly intelligent, fastidiously groomed and perfectly buttoned-up. Beckett, on the other hand, prefers not to wear clothes, has an affinity with animals, wears his dead pet goldfish, Gloop, as a necktie and brings destruction wherever he goes.
When the twins are left alone on the Fowl private island on the same day that a miniature troll, a pixel (pixie/elf hybrid) and evil immortalist Lord Teddy Bleedham-Drye descend on the island, the scene is set for a madcap farcical whirlwind of an adventure featuring homicidal nuns, sarcastic AI nannies, the Orient express, demolished buildings, Juliette's balcony in Verona and baths of electric eels.
Eoin Colfer is the master of keeping so many plates spinning, with the plot rocketing forward but still always time to pause for a well-judged quip. Reminiscent of a Hitchhikers Guide to the Galaxy or Discworld for kids, The Fowl Twins never talks down to its audience and includes excellent vocabulary as well as scientific and historical ideas which would make it a great choice as a class reader, if, that is, the children would ever let you stop reading long enough to discuss the text!
For 9+ readers with a taste for witty humour, quirky characters and series that can run and run, The Fowl Twins double-act is sure to hit the spot.
432 pages / Reviewed by Carol Carter, school librarian
Suggested Reading Age 9+
Other titles