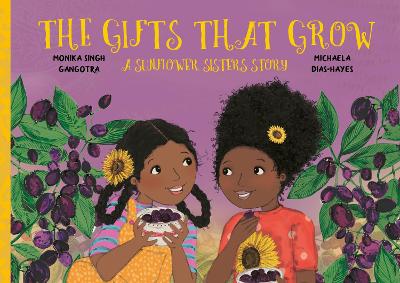 By Author / Illustrator
Monika Singh Gangotra, Michaela Dias-Hayes, Samuel Langley-Swain
Genre
Friends and family
Age range(s)
7+
Publisher
Owlet Press
ISBN
9781913339081
Format
Paperback / softback
Published
05-07-2022
Synopsis
The Gifts That Grow is a tale of generational love expressed through the importance of nurturing our environment for future generations to enjoy, even though we may never benefit from its rewards ourselves.
Reviews
Sharon
Amrita, her sister, Kiki and their friend Finn share a both a friendship and connection through the jamun tree growing in the garden of Finn's house. Amrita's gran planted the tree there just after Amrita was born. Now Finn lives in the house with his family. Find out how the tree links strongly with Amrita's ancestors and how Finn and his family show real kindness by sharing the fruits when ready.
My class loved the story in The Gifts that Grow and desperately wanted to taste jamun fruits… I couldn't find Java plums, so we had to make do with ones from the supermarket which most of the children hadn't tried before. They loved them. We haven't tried Monica's recipe yet, but hopefully before the end of term we can scramble some masala eggs.
The gold tinted illustrations are stunning, showing a strong sense of family with dreamy reminiscing about times past. My class would highly recommend this book for 7+ (and also plums to everyone).
Picture Book / Reviewed by Sharon Porter 
Suggested Reading Age 7+
Other titles