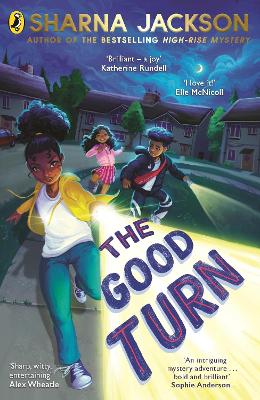 By Author / Illustrator
Sharna Jackson
Genre
Mystery & Detective
Age range(s)
9+
Publisher
Penguin Random House Children's UK
ISBN
9780241523599
Format
Paperback / softback
Published
12-05-2022
Synopsis
From the award-winning author of High Rise Mystery.  'Brilliant; a joy to the very end' Katherine Rundell.

A sharp, funny middle grade adventure with themes of real-life activism and how to help others for fans of Polly Ho-Yen and Robin Stevens.  Josephine Williams is a future-focused, internet-loving eleven-year-old who is desperate to explore the world beyond her cul-de-sac - and her browser.  When she learns about Josephine Holloway - a woman who started the first Girl Scout Troop for Black girls in America - she's certain she must start her own.  Enlisting her friends Margot Anderson and Wesley Evans, the trio begin their quest for their Camping Badge.  Drawn to an abandoned factory nearby, they stumble across something strange. A square, ancient television and two tatty armchairs. Beside it, a wooden sideboard with an old photograph of a young, happy couple.  What is this? Who, or what, lives here - and why?

'An intriguing mystery adventure . . . bold and brilliant' Sophie Anderson. 'A joy to read.' Alex Wheatle.
Reviews
Sharon
The Good Turn by Sharna Jackson; there are strong themes of friendship, 'can do' attitudes, homelessness and poverty which can be uncomfortable bedfellows at times in this story, especially when the children reading it have experienced the precariousness of not having enough themselves. With plenty of inequality issues to unpack whilst reading this mystery adventure!
The dialogue within the story is beautifully composed, really showing the feelings of the characters as they explore their mysterious find in the abandoned factory. With the chapters being nice and short, the book lends itself really well to whole class reading activities; my group of children enjoyed the story and really felt for the characters as their stories unfolded.
As one child stated: 'When I read this book I wasn't quite sure what to expect. In the end it was a real emotional rollercoaster, one chapter I was sad, the next I was happy. I'd recommend this for age 10 plus because some of the ideas are quite tough to read about.'  'Overall it's a good adventure with good friends.' H aged 10.
Another cracking read for a mature readers aged 10+.
400 Pages / Reviewed by Sharon, teacher
Suggested Reading Age 11+
Other titles