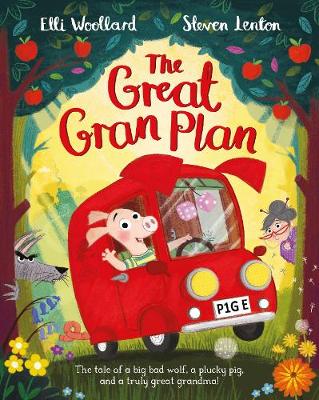 By Author / Illustrator
Elli Woollard, Steven Lenton
Genre
Adventure
Age range(s)
5+
Publisher
Pan Macmillan
ISBN
9781447254782
Format
Hardback
Published
21-09-2017
Synopsis
The pig lives in a house in the middle of the wild wood.
But inside the wild wood there's a bad wolf - and this hungry wolf wants a little pig for dinner! But a house made of bricks is hard to blow down, so instead of gobbling Pig, Wolf moves to plan B: gobbling Red Riding Hood's poor defenceless grandma! But his despicable plan is soon uncovered and Pig decides to rescue Gran! Will this plucky pig make it in time?
A fabulously funny twist on two classic fairy tales: Little Red Riding Hood and The Three Little Pigs. The Great Gran Plan is the first book by an exciting picture book pairing: the uniquely talented author and poet, Elli Woollard and best-selling illustrator, Steven Lenton.
Reviews
Nikki
A brilliant new twist on some of our favourite traditional tales. In this refreshing story we don't see a scared little pig hiding from the big bad wolf, oh no, this time our bashful third little pig is bold and brave and stands up to the wolf telling him 'you can blow till you're blue, but you'll not break my house down! When the wolf gets no joy with the brazen little pig in his house made of bricks off he goes in search of Riding Hood's granny to gobble up instead. The clever little pig hatches a plan to stop this big bad wolf and off he goes to the rescue! Throughout the book we get to meet all of our favourite fairy-tale characters. It is amazing to see just how many have been incorporated into the story on every page. For adults and children alike, it really is so much fun spotting the brilliantly placed pictures throughout. This book deserves to be given lots of time for the children to explore as they will find something new on every page that they didn't see before. You can really get a good idea of the children that have been exposed to lots of traditional tales by the amount of links that they make. We loved the ending of this story, it was such a funny twist that left us wanting more. This book could be used as a stimulus for lots of writing activities. Children could write the sequel - what will the big bad wolf get up to next? Without giving too much away you really have to read this book to see just how well this task leads on. Children could design 'Wanted' posters for the wolf or other characters in the fairy-tale jail; or invites to the great fairy-tale fete; or a big wolf 'to do' list of naughty things incorporating all of the children's knowledge of fairy-tales. It's also a great resource for KS2 teachers to engage older children in alternative traditional tales. Picture book / Ages 4+ / Reviewed by Nikki Stiles, teacher.
Suggested Reading Age 5+
Other titles