The Greatest Kingdom (A Clock of Stars, Book 3)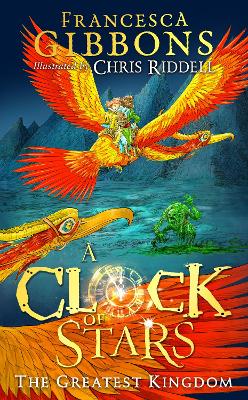 By Author / Illustrator
Francesca Gibbons, Chris Riddell
Genre
Fantasy
Age range(s)
9+
Publisher
HarperCollins Publishers
ISBN
9780008355173
Format
Paperback / softback
Published
27-04-2023
Synopsis
The thrilling third volume in the bestselling middle-grade trilogy, beautifully illustrated throughout by Chris Riddell.
Step through the door in the tree and into another breathtaking adventure. . .   When Anneshka's hunt for the greatest kingdom brings her into our world, Imogen and Marie know it's bad news. But Anneshka isn't their only problem. Mum's boyfriend, Mark, is sick and getting sicker, thanks to the monsters he accidentally carried home.
Can the girls escape Anneshka and find a cure for Mark before it's too late? Their quest will take them through the door in the tree and further than ever before, into the magical lands of Nedobyt beyond.  But there is more to this kingdom than meets the eye. Miro, Imogen and Marie must learn its secrets if they're to save their families - and stop Anneshka once and for all. . .
Reviews
Jacqueline
In The Greatest Kingdom, the final instalment in the A Clock of Stars trilogy, Imogen and Marie once again return to the magical kingdom, this time with their mother. They are on a lifesaving quest and time is running out. As well as this, they are pursued by Anneshka, who has found a way of travelling from the magical realm into our world. She is still searching for the way to be queen of the greatest kingdom and believes Marie will be the key to her success.
Many of the previous characters make a reappearance, including Prince Miro and Princess Kazimira, and the villain Anneshka is just as evil as she was before. In this story we get to see more of the magical world and meet many more of its inhabitants and places. The stakes are even higher and the Clock of Stars itself takes centre stage once more.
This series has been most notable for the worldbuilding Francesca Gibbons creates. There is something very vivid about the realm Imogen and Marie travel to and for me, this is what makes the series so interesting. The adventure is tense and exciting but the places are what sticks in my mind. Nedobyt, the city Miro's family have come from, for example, is easily pictured and the great marshlands stretch away into my imagination. Of course, once again Chris Riddell's illustrations are wonderful, in fact I would have liked a few more, being a fan of illustrations in general and Chris Riddell in particular.  The opening pages with all the characters in his instantly recognisable style, are a highlight.
Whilst this is the final book of the trilogy, I can't help feeling that Francesca Gibbons may be drawn back to her enchanting world at a later date. After all, it would be a shame to waste an opportunity to re-enter such a spectacular place.
512 pages / Reviewed by Jacqueline Harris, teacher
Suggested Reading Age 9+
Other titles