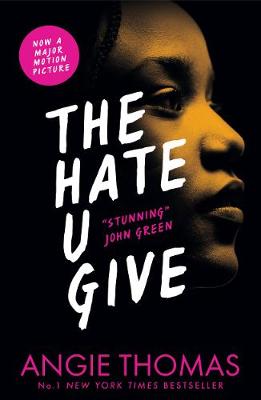 By Author / Illustrator
Angie Thomas
Genre
Representation & Inclusion
Age range(s)
14+
Publisher
Walker Books Ltd
ISBN
9781406372151
Format
Paperback / softback
Published
06-04-2017
Synopsis
Winner of the Waterstones Children's Book Prize 2018.  Winner of the Children's Book of the Year 2018 at the British Book Awards.  #1 New York Times bestseller.  A Teen Vogue Best YA Book of the Year.  A major motion picture, starring Amandla Stenberg.  

Sixteen-year-old Starr lives in two worlds: the poor neighbourhood where she was born and raised and her posh high school in the suburbs. The uneasy balance between them is shattered when Starr is the only witness to the fatal shooting of her unarmed best friend, Khalil, by a police officer. Now what Starr says could destroy her community. It could also get her killed.  Inspired by the Black Lives Matter movement, this is a powerful and gripping YA novel about one girl's struggle for justice.
"Stunning."-John Green.  "A masterpiece."-The Huffington Post.  "An essential read for everyone."-Teen Vogue.  "Outstanding." -The Guardian
Reviews
Alison
The Hate U Give is an incredible book with realistic characters and a carefully thought out plot. Based in America, it follows the story of Starr as she deals with being a witness to violence from a police officer. It is based on the Black Lives Matter movement and brings into sharp focus the divisions that exist and that can be caused by a single decision or moment.
I absolutely loved this book, and read it extremely quickly, but despite that the story, the characters and little moments have stayed with me. It had left me in a bad mood, mulling over all the things that people struggle with and really wanting to do something about it, the like of which I haven't experienced since reading 'Buffalo Soldier' by Tanya Landman.
This book is firmly placed within black culture, and so is unlike anything I have read before (which perhaps reflects more on my reading than it does on publishing, though there clearly is an issue there). This is a really important book, which should be read by everyone - for many it will reflect parts of their lives, while for some the placement within black culture may mean they feel excluded from parts of the book - but this is as important as the book itself - this feeling of cultural exclusion is something which is rarely experienced by some people, while for others is a fact of life.
This book is essential buying for any school library, or teenager.
448 pages / Reviewed by Alison Tarrant, school librarian.
Suggested Reading Age 14+
Catherine
I went into this book blind, so to speak. I hadn't read a single review of it - though there were plenty, and all of them congratulatory and effusive in their praise. I didn't know the film rights had already been sold and the main character as good as confirmed. I was unaware that the book was about to top the NY Times best sellers list.
You can't achieve any of that without substance; and straight up, The Hate U Give deserves every accolade - and will, no doubt, accrue many more. Angie Thomas' Starr has a very real, very authentic voice and the rest of the cast breathe life as clearly as you or I. Starr is a 16 year old, growing up in Garden Heights, a poor, predominantly black neighbourhood, while being schooled at Williamson Prep, the predominantly white high school a million miles away in terms of shared experiences. She's doing a great job at keeping her two worlds separate - until Khalil is shot dead, by a white police officer. As the only witness to the event, Starr finds her worlds colliding as people at Williamson Prep comment on the death of a drug dealer and gang member while her neighbourhood are up in arms at the unprovoked killing of Khalil.
Her silence is a slap in the face to the memory of her friendship with Khalil, knowing full well that if situations were reversed, he would defend her and her name; but to speak out could endanger her and her family. The anger, frustration and hurt around Khalil's death combined with the grand jury deciding not to indict the officer concerned, threaten to inflame an already tense situation in Garden Heights. Black Lives Matter.
Inspired to write the book back in 2010/2011 after the death of Oscar Grant, a young black man who was shot by police in California, Angie writes straight from the heart. With The Hate U Give, Angie Thomas's ultimate hope is that 'everyone who reads this book, no matter what their experiences, walks away from it understanding those feelings and sharing them in some way'. This is an important story.
448 pages / Reviewed by Catherine Purcell, school librarian.
Suggested Reading Age 14+
Other titles