The Haunting of Aveline Jones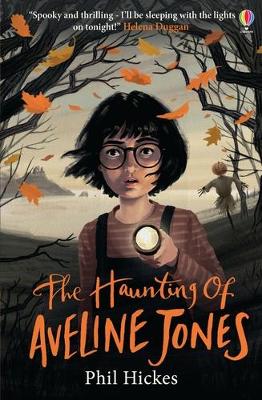 By Author / Illustrator
Phil Hickes, Keith Robinson
Genre
Supernatural
Age range(s)
9+
Publisher
Usborne Publishing Ltd
ISBN
9781474972147
Format
Paperback / softback
Published
17-09-2020
Synopsis
Turn on your torches and join Aveline Jones!Aveline loves reading ghost stories, so a dreary half-term becomes much more exciting when she discovers a spooky old book. Not only are the stories spine-tingling, but it belonged to a girl called Primrose Penberthy, who vanished mysteriously, never to be seen again. Intrigued, Aveline decides to investigate Primrose's disappearance, with some help from her new friend, Harold. Now someone...or something, is stirring. And it is looking for Aveline.The first in a deliciously spine-tingling, spooky new series, where mysteries are always solved, spirits are always laid to rest, and everybody gets to bed on time.
Reviews
Linda
The Haunting of Aveline Jones is a deliciously dark, hauntingly-good ghost story, filled to the brim with menace, malevolence and mystery. It is a truly frightening tale and is not for the feint of heart!
When Aveline is sent to stay with her aunt in a small, sea-side village, she finds a book full of ghost stories. Strange happenings begin to occur and Aveline finds herself entangled in a very dangerous showdown with a vengeful ghost.
I cannot stress how much I enjoyed this book! It is a superb work of ghostly fiction: the air of menace and the feeling of foreboding that runs through it means the reader is on edge from beginning to end. It's unpredictable and impossible to put down. It's very much an atmospheric read with the setting perfectly suiting the story.
Since receiving this book from ReadingZone, it has been in constant demand with my Year 5 readers. It has yet to return to my bookshelf as it has been passed from one child to the next. It has not received any less than a five star rating from any child who has read it! They are all eager to devour the next book in the series too. A superb offering from Phil Hickes, which I would recommend to any brave reader.
350 pages / Reviewed by Linda Canning, teacher
Suggested Reading Age 9+
Jacqueline
Aveline Jones gets sent to stay with her aunt in the Cornish town of Malmouth. Aveline loves ghost stories, so the first thing she does is visit the local bookshop and buys a book of ghost stories. But something strange is happening. The book belonged to a girl who disappeared more than 30 years before and there is a strange ghost story that seems somehow connected. Aveline decides to investigate and with her new friend Harold, begins to uncover something creepy going on. Someone, or something, is out there and it is looking for Aveline….
First of all, I have to confess, I don't really like creepy books; though in much the same way as Frog and Toad (Arnold Lobel) there is something quite comforting about being scared whilst warm and safe inside. This is a very scary book indeed, made all the more chilling by some fantastic illustrations by Keith Robinson. The pictures alone had the power to shock and scare, so coupled with the story this was a pretty terrifying experience.
It is a very exciting book- you really can't put it down because you are so drawn into the story, you have to know what happens next. Very atmospheric, particularly the descriptions of the seaside town in Autumn, the emptiness of the streets now the tourists have gone. But it is not for the fainthearted or easily spooked and definitely not something to read just before bedtime. I will be reading the second book, but only in daylight!
350 pages / Reviewed by Jacqueline Harris, teacher
Suggested Reading Age 9+
Beverley
Aveline Jones loves reading creepy ghost stories. When her mother is called away to help a sick relative, Aveline is sent to stay with her Aunt Lilian in the seaside town of Malmouth on the Cornish coast. Aveline and her aunt are not close, Lilian is described as being "nice but cold, like ice cream".

Malmouth in October is a grey and empty place, but Aveline tries to make the best of her enforced stay. Visiting an old second hand bookshop, she purchases a book of ghost stories. Inside the front cover is written the name of the books' previous owner - Primrose Penberthy. Aveline finds that the final story in the book - The Lady in the Waves - is missing. Someone has crossed out every line of text, making it unreadable.

Aveline researches Primrose, and discovers that she was eleven years old and had disappeared from Malmouth in 1984, never to be seen again. When Aveline revisits the bookshop and finds a diary that had belonged to Primrose, she is plunged into a scary and spooky world of ghosts, scarecrows that look like sick children, and mysterious noises in the night.

The Haunting of Aveline Jones is a fast-paced, extremely well-written story, scary enough to send shivers down the spine and perfect for Halloween. Aveline is a feisty, intelligent girl who, although often scared by what is happening around her, is determined to solve the mystery of what happened to Primrose. Helped by an interesting and well-drawn bunch of characters - Harold and Mr Lieberman from the bookshop, Edith Fitzwilliam, an authority on local folklore, and even Aunt Lilian herself - Aveline continues to work on the puzzle.

The author sets the scene brilliantly, describing Malmouth as feeling like "somewhere the world had forgotten about". He cleverly builds up the tension as Aveline finds out more about Primrose. The section in which Mrs Fitzwilliam reveals the full story missing from the book is quite chilling. However, the author saves his scariest writing for the scenes in which Aveline finally confronts the Lady in the Waves. The stormy night, crashing waves and descriptions of "slow, measured steps slapping in the water" and "nails scraped along the top of the stone wall" are incredibly effective.

The author uses various devices to tell the story, including diary entries, a book of ghost stories and newspaper reports. This is a clever way of letting the reader know more about Primrose; we learn of her likes and dislikes through her diary, which gives a real insight into her character. The beautiful black and white line drawings used throughout the book (bravo Keith Robinson!) perfectly complement the spooky tale, adding to the atmospheric nature of the writing. The story comes to a satisfying conclusion without feeling contrived in any way.

I thoroughly enjoyed meeting Aveline, and I am delighted to see that another adventure is planned for her in the future. I shall be waiting eagerly to find out what happens to her next!

350 pages / Reviewed by Beverley Somerset, school librarian
Suggested Reading Age 9+
Other titles