The History of the World in 100 Animals - Illustrated Edition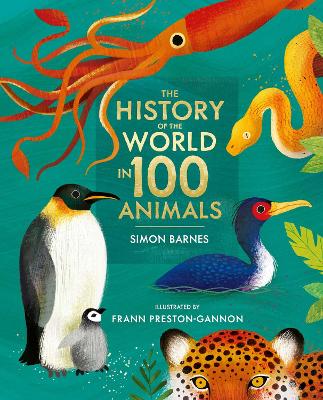 By Author / Illustrator
Simon Barnes, Frann Preston-Gannon
Genre
Animals
Age range(s)
7+
Publisher
Simon & Schuster Ltd
ISBN
9781471194719
Format
Hardback
Published
02-12-2021
Synopsis
An exquisite edition of The History of the World in 100 Animals by author and journalist Simon Barnes, adapted and abridged for younger readers, with superb illustrations by award-winning artist, Frann Preston-Gannon, illustrator of I Am the Seed That Grew the Tree.

This outstanding gift book proposes the 100 animals who have had the greatest impact on humans and the way we view the world around us. From the bees who pollinate our food to the chimpanzees who share over 98% of our DNA, this book explores the unique and thought-provoking relationship between humans and animals throughout history. This fact-filled guide is sure to inspire and delight animal lovers young and old, and will make the perfect gift this Christmas.
Reviews
Sharon
Animals and humans have co-existed since time immemorial and The History of the World in 100 Animals, a beautifully illustrated non-fiction book, pulls together the animals which have had the strongest connections or impact on us humans throughout history. From the lowly cockroach to the magnificent blue whale, the selected animals are given an introduction for their contribution to our lives and have several interesting facts to add into the spreads. Some animals have a double page spread, others a half page but this doesn't detract from the wealth of information available.
Frann Preston-Gannon's illustrations are simply stunning, making the interesting information fully accessible for even the less confident readers in my class. After our recent visit to a local mining museum, my class were keen to research the role that animals played and this book allowed them to dip into the horse and canary pages as their starting point for further research.
There is potential for many topics to be supported by this book including: extinction (dodo, archaeopteryx, T.Rex), polar landscapes (polar bear, penguin) and climate change (honeybee, cattle, coral). I would recommend this book for children aged 7 and above. It is a great book to dip into.
112 pages / Reviewed by Sharon Porter, teacher
Suggested Reading Age 7+
Other titles