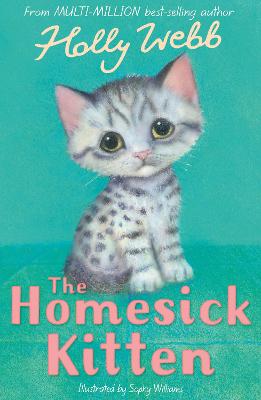 By Author / Illustrator
Holly Webb, Sophy Williams
Genre
Animals
Age range(s)
7+
Publisher
Little Tiger Press Group
ISBN
9781788953870
Format
Paperback / softback
Published
06-01-2022
Synopsis
Harper loves spending time with her gorgeous new kitten, Sammy. He likes sitting in the window, exploring their flat and playing in the garden. But then Harper and her family have to move in with her gran after she has a bad fall, and everything changes.
Sammy doesn't feel at home at Gran's house. He misses the smells and sounds of the flat, his real home. So when he spots an opportunity to go back, he takes it. But Sammy soon discovers home is more than just a building, it's where your family are...
A new story from best-selling author Holly Webb, perfect for animal-loving children, and fans of ZOE'S RESCUE ZOO and MAGIC ANIMAL FRIENDS.
Reviews
Maria

- Age 7
Harper and her sister Ava live with their mum in a flat and are delighted to welcome a new addition to their family, Sammy the kitten. Sammy settles into his new home and is loved and cared for by the girls. Gran comes to visit and Sammy loves the affection shown by her too. The following day, Gran has a fall and is taken into hospital. Mum makes a decision to move permanently from their flat into Gran's house with the girls and Sammy, in order to care for Gran. Within a few days the whole family has moved into Gran's house. They soon notice that Sammy is not happy and is not eating or playing. After an argument between Harper and her mum, Sammy escapes from an open window and tries to make his way back to their old flat.
The Homesick Kitten is a gorgeous story by the talented Holly Webb about family and caring for each other. The story deals with caring for the Gran, the search for a lost kitten and saying sorry.
128 pages / Reviewed by Maria Aldred, teacher
Suggested Reading Age 7+
Maria
In The Homesick Kitten, Sisters Harper and Ava adore their new kitten, Sammy. They happily play, cuddle and care for it in their family flat where they live with their Mum. Everything and everyone is perfect. Until Gran, getting wobbly on her feet with old age, has a fall and it is decided that the family are going to move out of their flat and into Gran's house.
Harper and Ava return from school to their new home, and find a very cross and confused Sammy hidden under the table. Sammy doesn't like the sudden change. Worst still, the litter tray keeps moving and Sammy cannot find it when she really needs to wee! One unfortunate accident later and Mum leaves the window open to air the living room. Drawn by the familiar smell of fresh air, out jumps Sammy and she wanders the busy streets, trying to find her way back to the flat. Meanwhile, Harper discovers the open window and the missing cat, and a search begins. With no luck that evening or the next morning concern grows for the missing kitten. Where is she? Will they find her?
With its comforting ending, this chapter book is the perfect text for any animal-loving young reader - they won't want to put it down! It is an ideal text for a developing independent reader and provides a great opportunity to develop comprehensive and inference skills, particularly surrounding character experiences and opinions.
128 pages / Reviewed by Maria Faithorn, teacher
Suggested Reading Age 7+
Other titles