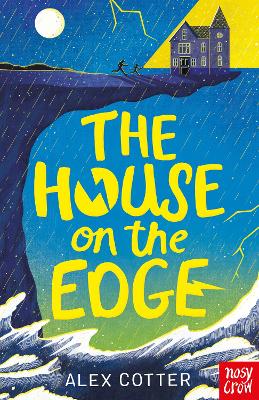 By Author / Illustrator
Alex Cotter, Kathrin Honesta
Genre
Friends and family
Age range(s)
9+
Publisher
Nosy Crow Ltd
ISBN
9781788008624
Format
Paperback / softback
Published
01-07-2021
Synopsis
A tense thriller that's impossible to put down - perfect for fans of Emma Carroll and Fleur Hitchcock.Where has Faith's dad gone? Why has he left his family living in an old house perched on a crumbling cliff top? A crack has appeared in the cliff and Faith watches anxiously as it gets bigger and bigger each day... Her brother is obsessed with the sea ghosts he claims live in the basement, and when he disappears as well, Faith starts to believe in the ghosts too. Can she find her brother and bring her father back before everything she cares about falls into the pitiless sea below?  A great mystery with real heart, from a captivating new voice in middle-grade fiction.  With cover illustration by Kathrin Honesta and neon finishes.
Q&A and video with Alex Cotter
Reviews
Jan
House on the Edge by Alex Cotter - From the opening of this book, I was hooked and wanted to read on to discover who the characters were and what had happened to them. This story deftly weaves together the history of Dorset wreckers, ghosts seeking restoration of their treasure, and the emotional impact on our main protagonist, Faith, of the events and aftermath of her father's disappearance in his boat. Although the main character is a girl, the story also focuses on her younger brother and a mysterious boy, Sam, so it would also appeal to boys, perhaps as a book to be shared in class.
Alex Cotter creates an almost constant sense of tension as Faith struggles to maintain the illusion that her family is coping with the loss of her Dad, whilst she deflects questions from adults in positions of authority. The truth is far from this. Cotter has a very believable character in Faith, highlighting the plight of child carers. Faith has become the carer for both her depressed mother, and her younger brother, Noah. She also remains fiercely loyal to her father's ideals. However, she is conflicted, as she tries to understand the truth about his disappearance and how far his obsession to save their tumbledown home, The Lookout, had become a destructive element in their family. Empathy for Faith increases but the reader is aware that her charade must surely, finally, spiral out of control.
Alongside the emotional elements of the plot runs the mystery of her family history. Her brother Noah is convinced he is talking with the ghosts of a shipwreck, and then the strange boy Sam, appears. He seems to know a lot about Faith's beloved home. Can they uncover the truth about one, long ago, tragic night before Faith's creepy uncle seizes the house? And Sam is hiding more secrets than Faith realises, is he even real? An exciting mystery story that unravels its clues just as Faith's life unravels, until the climactic ending that sees the metaphorical crack in her life and the physical crack in the earth across their garden, collide.
256 pages / Reviewed by Jan Blagden
Suggested Reading Age 9+
Sam
Faith and her young brother Noah live with their mother in The Lookout; a crumbling house, teetering on the edge of a Dorset cliff top. Faith's father has disappeared, her uncle is adamant the house should be his, and Faith alone is left to look after her brother, who appears obsessed by sea ghosts, and her mother who has lost her 'spark' and won't get out of bed. When Faith is befriended by a mysterious young boy called Sam, she learns that there may be more to Noah's ghost stories than she initially thinks. The house is hiding secrets and if Faith can uncover them then there may be a way she can save it, but can she find the answers she needs before everything comes crashing down…
The House on the Edge deals with some important real life issues. Faith is forced to grow-up fast and her carefree teenage life is replaced by responsibilities way beyond her years. She finds herself caring for her mother who is struggling with mental health issues, looking after her younger brother and trying to maintain the pretence to interfering family members and a demanding school teacher that everything is normal at home.
I absolutely loved this book, it's a thrilling children's story, perfect for any Key Stage 2 reader who enjoys a spooky read without being too frightened. A superbly written debut novel by Alex Cotter
272 pages / Reviewed by Sam Phillips, teacher
Suggested Reading Age 9+
Jacqueline
Faith lives in a house on the edge of the cliff. There are cracks in the house and cracks in the family. Her father has left, and her mother is no longer functioning properly, clearly deep in depression. Faith looks after her mother, her brother Noah, and the house. She is not managing very well and trying hard to keep away from everyone else, so they do not guess what is happening at home. Noah says there are sea ghosts in the basement. Uncle Art wants the house- he feels it should have been his in the first place. And Sam, the boy on the beach, wants to find treasure. Faith is caught between all of this and a mystery surrounding the house a few hundred years previously. All the while the crack in the garden is getting larger, much like the crack in her heart.
This is a very original story that pulls you in from the opening page. It is beautifully written, and the words vividly create the scenes in your imagination. This is both a mystery adventure and a story about loss and grief. The only thing holding Faith together is the house, and that has huge fissures in it. It is not just the house that is on the edge, but the whole family.
Alex Cotter's debut is exciting and breath-taking as well as a book that will leave you feeling emotionally wrung out. I found the descriptions of the mother's state of health particularly true to life and it is a book you need to know your class to recommend for them to read it.
292 pages / Ages 9+ / Reviewed by Jacqueline Harris, teacher
Suggested Reading Age 9+
Jane
This isn't just an adventure story involving three children - Faith, her younger brother Noah, and Sam - on the run, on the lookout for treasure, hope, a secure home. Nor is it a simple story of ghosts - as if ghosts were real anyway! Nor yet is it just about shattered families and friendships, or times past when smugglers, wreckers and heroines populated seaside towns. It isn't even a book in which the adults are predictably boring, mean or stupid and we know immediately which side to take.
The House on the Edge is satisfyingly more, so that even seasoned readers are kept on tenterhooks until the very end. All the characters are well drawn, the plot is pleasingly puzzling and the presentation very attractive, both the cover and the themed graphics on every page edge and chapter opening.
This is a credit to children's literature from an author whose skill in creative writing is well recognised. I shall be recommending it widely, especially to Year 4 upwards - with just a note of caution that it contains some bad language, as well as a depiction of a parent falling apart under the stress of grief and responsibility. Perhaps books like this might help others to tread a different path towards understanding and healing at a younger age.
272 pages / Reviewed by Jane Rew, school librarian
Suggested Reading Age 9+
Sharon
Faith (our plucky protagonist) lives with her brother, Noah, and mum in The Lookout; the house on the edge of an eroding cliff. Unfortunately, the house isn't the only thing "on the edge". Faith's mum is foggy after her husband's disappearance, Noah is "away with the fairies" most of the time and talking to cellar ghosts and Faith is trying to hold everything together, despite losing her friends due to gossip about her family. All this leads to an adventure involving smuggler tunnels, intrigue with a ghost, the discovery of treasure and a sad but brave loss in the family's past.
A lovely way to deal with loss, family mistakes, child carer roles and an unexpected ending. We won't spoil it for you! I would recommend this book for use alongside a unit of learning about smugglers or as alongside a seaside topic with Year 3 children or above. It is an easy read with plenty of P.S.H.E. issues to discuss throughout the story as an aside. I will be looking out for further Alex Cotter books to read in the future.
292 pages / Ages 8+ / Reviewed by Sharon Porter, teacher
Suggested Reading Age 7+
Other titles