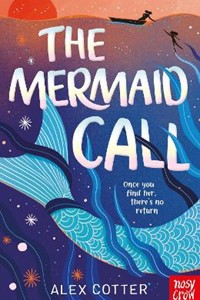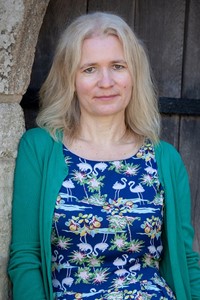 About Author
Alex Cotter has worked hard all her life at daydreaming, while making a living from words: from bookselling at W.H.Smith and publicising The Booker Prize to copywriting and teaching creative writing. Alex lives near Bath in an ancient house, with cobwebs, creaky floorboards, one husband, two children, and a revolutionary cat called Trotsky.
Download a chapter from The Mermaid Call
Interview
The Mermaid Call  (Nosy Crow Books)
July 2022
With legends of a local mermaid trapped in their lake and a ghostly presence in the waters, could the stories of Lake Splendour be true?   In this tense and atmospheric novel, local legends tell of two young women being captured by a mermaid and held captive, many years before. When two children decide to find the mermaid for themselves, the legend takes on a life of its own and the two girls find themselves in terrible danger.
Woven into the eerie lakeside setting of The Mermaid Call are questions around women's rights, toxic friendships and being true to ourselves. Author Alex Cotter tells us more in this video, and gives a short reading from The Mermaid Call.
Q&A with Alex Cotter
1.   How did you start writing for children?
I've been writing stories since I could read, but it wasn't until my late twenties that I began the long (very long), twisty journey of submitting. I had two YAs published some years ago, but The House on the Edge was my debut MG novel. And now my second MG is … The Mermaid Call!

2.   What is The Mermaid Call about?
It's about Vivien who lives in Lake Splendour, a village that profits from its legendary Lake Mermaid and honours two lost girls who claimed to have called the mermaid a century ago. Convinced she's never going to win the much-celebrated Mermaid Crown, and reeling from her absent mum's rejection, Vivien develops a new friendship with enigmatic Alice who leads them on a dangerous quest to call the Lake Mermaid.
It combines a mythical story from the past with the pressures to be pretty and belong and takes a look at what it takes to make a difference and be yourself.

3.   What was your starting point for this story?
It was a visit to a Shell Grotto that set off a chain of ideas. Mermaids and Suffragettes and the tension between the two had long been swimming inside my head. But in that grotto, I suddenly began to imagine a village that thrived on its mermaid tourism, yet harboured tensions around its Mermaid Crown. And then Vivien and her mermaid shop, her brave friend Erik, and dangerous Alice appeared - and I was off …!

4.   Is Lake Splendour based on a real place?
Lake Splendour is a fictional lake village, but it's based in the Lake District. My dad's family are from Lancashire so we'd visit there a lot growing up. Another place that I drew from is Matlock Spa in Derbyshire. How I loved its magical seaside-town-inland vibes when I was a child (still do!), and I borrowed from its setting a lot as I created the village.

5.   There's a lovely crossover of mermaid myths and the real world. Do you like bringing a little bit of possible magic into your stories?
Yes, I believe magic takes all kinds of guises! I'm fascinated by the power of the unknown and unseen and how magical and mythical stories can be used to both manipulate and make sense of our lives.

6.   Why did you choose a mermaid as the mythical creature in the lake?
One of my favourite tales as a child was Hans Christian Andersen's 'Little Mermaid' - it both inspired me and frustrated me. Why did she sacrifice her tail for a prince?! Why did she trust the witch?! Yet I could also understand her curiosity and desire to experience another kind of life.
Plus, the symbolism and contradictions of mermaids have always intrigued me - magical or monster?! I also liked the idea of a mermaid in a lake rather than the sea, with its links to one of the story's themes of being trapped and out of place.

7.   You also raise a debate about feminism versus mermaids - Which side of the mermaid debate would you have been on at Lake Splendour?
I enjoy posing questions in a story that I find difficult to answer myself! Vivien and the village survive on the lure of the Lake Mermaid and its festivities, and yet it is framed in a way that excludes children like Vivien and Erik from feeling like they belong. Moreover - as my character Eleni declares! - mermaids were often created by a patriarchal society based on old-fashioned perceptions of women and girls. So, while I would definitely fight for feminism over a sparkly tail, I would probably also try and unite both sides!

8.   Do you plot your novels, or wait to see where the characters take you?
I start by plotting, then journey with my characters for a while, then plot again when I get stuck. A bit like a road trip where you need to keep stopping for petrol (or electricity!).

9.   What would you like readers to take from Vivien's journey through The Mermaid Call?
I'd love them to think about that question Mimi asks Vivien: "Whose mirror have you been looking in?" It's one I wish I'd spent more time pondering as a child and young adult. I think it's so important to trust your own true reflection, rather than view yourself based on how others might see you.

10. You explore non-traditional families in your stories, too; why do you feel it's important to present different kinds of families in your books?
In my own life I'm privileged to be close to many different kinds of families and I feel it's vital we celebrate those differences, but also acknowledge the various issues children can face when they feel like they don't fit within traditional conventions. Also, the broader family you form from friendships has always been important to me and I like to explore that and how it can develop you as a person in all sorts of ways.

11. Where is your favourite place to write? What are you working on currently?
I either write while juggling cat, cuppa and computer on my lap or I do love a café - there's something about being alone in the company of strangers that I find really helps me imagine and focus.  Currently I'm working on my next MG novel, which features ice skating!

12. What would a writer's shed at Lake Splendour look like?
What a great question! Right - I've put some serious thought into this! It's got shells, all kinds, covering the floor and ceiling. We have a small water fountain in one corner and glass walls for the very best view of the lake and mermaid spotting. And above the desk, a rousing quote from Emmeline Pankhurst: "I would rather be a rebel than a slave".
Author's Titles