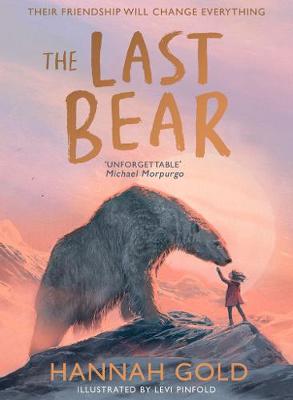 By Author / Illustrator
Hannah Gold, illus Levi Pinfold
Genre
Environment
Age range(s)
7+
Publisher
HarperCollins Publishers
ISBN
9780008411282
Format
Hardback
Published
18-02-2021
Synopsis
"This is an important first novel, important for us, for polar bears, for the planet. It is deeply moving, beautifully told, quite unforgettable." Michael Morpurgo.
There are no polar bears left on Bear Island. At least, that's what April's father tells her when his scientific research takes them to this remote Arctic outpost for six months. But one endless summer night, April meets one. He is starving, lonely and a long way from home. Determined to save him, April begins the most important journey of her life...
This moving story will win the hearts of children the world over and show them that no one is too young or insignificant to make a difference. The Last Bear is a celebration of the love between a child and an animal, a battle cry for our world and an irresistible adventure with a heart as big as a bear's.
'A dazzling debut . . . A magical, confidently told story - with beautiful illustrations by Levi Pinfold . . . I predict a roaring success' The Times
Reviews
Jo
The Last bear is a story that sings to your heart. Set on the bleak and lonely wilderness of the Arctic Circle, we follow April's journey of discovery, both literally and metaphorically. Despite the barren nature of the landscape and the lack of human interaction, The Last Bear is bursting with beautiful sensory descriptions which cast vivid images into the mind's eye.

April has lost her mother and in the process has almost lost her father too; he is grief-stricken and seems to have forgotten April's existence and has certainly overlooked her sadness and loneliness. When he is stationed on a remote island in the Arctic Circle as part of his scientific research, April is excited to join him, naively thinking that they will at last have time and adventures together.

Sadly, April is mistaken and whilst Dad shuts himself away in his cabin with his instruments and gauges for company, April is left to her own devices. Despite being told that there are no bears left on Bear Island, when April believes she catches a glimpse of one, she is bravely determined to prove that she is right. What follows is a beautiful tale of friendship and bonding, of seeking all that is lost and regaining the love, trust and understanding that has been missing for so long.

Bear had echoes of Narnia's Aslan for me. He is majestic and strong whilst being vulnerable and big-hearted. Readers will love the way in which April and Bear communicate through their mutual understanding and how a giant creature can melt the heart of a small girl who has not felt love for a very long time.

Flowing through the book is the theme of environmental impact and our threatened planet. Bear epitomises the harm that Man is doing to the planet. A once strong, formidable creature is reduced to skin and bones and is struggling to survive because of melting ice caps and plastics in the ocean. How clever of Hannah Gold to present such hard-hitting, big issues in such a delicate and charming way. Readers will ache at the plight of Bear and will stop to consider the plight of our world. In a non-preachy way, Hannah Gold is telling all readers that they, like April, can make a stand and do something before it is too late.

Once the last page of this stunning book has been turned, its messages will resonate for a long time to follow. April's tenacity, her resilience, her gentleness and her vulnerability will make a mark in your heart.

April's friendship with Bear is purely a work of fiction and most readers will know that a polar bear and a small child could never be companions but this book weaves a spell that allows reality to be suspended and for imagination and dreams to be as clear as the northern lights. I believed that April and Bear were best friends and I truly wanted their friendship to last forever.

This is a book with impact: it has a strong environmental message; it has a theme of love and loss and it is overwhelmingly about friendship and acceptance. A brilliantly beautiful book with gorgeous illustrations and delicious descriptions. A must have.

304 pages / Ages 8+ / Reviewed by Jo Clarke, teacher
Suggested Reading Age 9+
Rhiannon
April Wood is often alone. Her father immerses himself in his scientific research, unable to deal with the death of April's mother seven years ago, and her only real friends are the animal companions she finds in odd corners wherever she can. However, when April's father is offered a post in the Arctic, she believes the shared adventure will be an opportunity to work on their relationship.

Disappointingly, even though they are the only humans on Bear Island, the gap only seems to widen. At a loss, April decides to explore the island on her own and makes a remarkable discovery. An impossible polar bear! She soon learns that he is stranded, injured, hungry and unable to return home and April makes it her mission to help him, no matter the cost.

A powerful and endearing novel about the impact of climate change on the environment, The Last Bear is both a charming bedtime read and an inspiring story meant to call children and adults to action. Illustrated throughout with soulful images by Levi Pinfold, it is an excellent choice for a class read or PSHE lessons for children aged 8 and above.

Unlike many stories with similar themes, there is hope in the message that it is not too late to protect our planet, however small or young a person feels.

304 pages / Ages 8+ / Reviewed by Rhiannon Cook, school librarian.
Suggested Reading Age 9+
Donna
When April's dad tells her they will be living on a remote island in the Arctic circle for six months, she is nothing but happy about it. She will get to miss school, she will get to spend time just with her dad and surely they would have lots of time to build snowmen, have snowball fights and make hot chocolate just how her mum used to make it: hot and creamy.

But dad secretes himself away every day, busy with the weather station and totally absorbed in his work, as usual, leaving April to discover Bear Island alone. Until she finds that she isn't...

April's days become full of adventure as she watches, helps and learns all about The Last Bear on Bear Island, but will her dad believe her? And what can she do, a little girl, to help Bear to find his family?

Hannah Gold creates a magical winter wonderland; her vivid descriptions: transport the reader to the heart of Bear Island; wrap them up in the warmth of her words and the power of her observations; and fly us through an adventure like no other. The honest and raw emotion conveyed through the eyes and thoughts of April are sure to have a lasting effect on any reader. This book is pure magic through and through and the wonderful illustrations by Levi Pinfold are the icing on the cake, or the sparkle on the ice: An absolute masterpiece in storytelling.

For ages 8+ - but it should be read by everyone!

Curriculum links to: Family, bereavement, isolation, curiosity, love, patience, passion, determination, environment, effects of global warming.

304 pages / Ages 8+ / Reviewed by Donna Burkert, teacher
Suggested Reading Age 9+
Other titles