The Last Storyteller: Winner of the Newbery Medal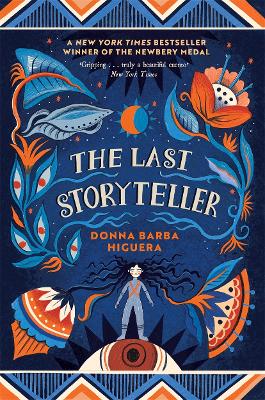 By Author / Illustrator
Donna Barba Higuera
Genre
Science Fiction
Age range(s)
11+
Publisher
Templar Publishing
ISBN
9781800784208
Format
Paperback / softback
Published
01-09-2022
Synopsis
An unforgettable journey through the stars, to the very heart of what makes us human. The incredible Newbery Medal-winning novel from Donna Barba Higuera.  "Gripping in its twists and turns, and moving in its themes - truly a beautiful cuento."- NEW YORK TIMES
Habia una vez . . .There lived a girl named Petra Pena, who wanted nothing more than to be a storyteller, like her abuelita. But Petra's world is ending. Earth will soon be destroyed by a comet, and only a few hundred scientists and their children - among them Petra and her family - have been chosen to journey to a new planet. They are the ones who must carry on the human race.
Hundreds of years later, Petra wakes to this new planet - and the discovery that she is the only person who remembers Earth. A sinister Collective has taken over the ship during its journey, bent on erasing the sins of humanity's past. They have systematically purged the memories of all aboard - or purged them altogether.  Petra alone now carries the stories of our past, and with them, any hope for our future. Can she make them live again?
Reviews
Donna
In The Last Storyteller, a comet is heading for Earth and an exodus of the chosen few has begun. Petra and her family are some of the ones chosen ones to board the three Pleiades vessels that will take them across the galaxy to a new planet, a new home. With their bodies placed in stasis, her brain is to be uploaded with botanical knowledge while she sleeps.
The lucky few are charged with forging a new life for the  'Collective' while those left behind face certain destruction. But Petra doesn't want to be a botanist like her parents, she wants to be a cuentista – a storyteller, like her gran. She elects to have an extra download while she sleeps, one that is full of stories, myths and legends. But stories of the old world are not necessary where she is going, and the corporation want to purge all thoughts of home from its inhabitants. Mid-journey, her download is stopped and when Petra is woken as the ship arrives at Sagan, things are not as they were promised.
Realising that she has not yet been reprogrammed as Zeta-1, like the others from the ships, she must hide her true identity whilst seemingly conforming to the regimented rules of The Collective. But Petra knows that stories and memories run deep and vows to reach those that she can in her efforts to find other survivors and escape the confines of the ship.
The Last Storyteller is a truly fabulous adventure by Donna Barba Higuera. A gripping story that seamlessly interleaves science fiction with traditional myths and legends, it presents a glimpse into what our futures could be and holds on to all that makes us who we are. With strong links to family, friendship, hope and determination, it ultimately centres on the true meaning of happiness, the happiness of belonging, of family, of love. Recommended for ages 10+.
336 pages / Reviewed by Donna Burkert, teacher
Suggested Reading Age 11+
Other titles