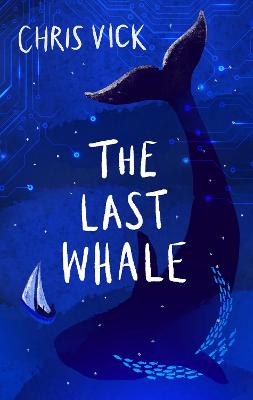 By Author / Illustrator
Chris Vick
Genre
Environment
Age range(s)
11+
Publisher
Zephyr
ISBN
9781803281612
Format
Hardback
Published
04-08-2022
Synopsis
From killers to conservationists, Carnegie-shortlisted Chris Vick tells the story of three generations of the Kristensen family, their history as whale hunters and later their mission to save the great whales and our planet.
Summer, the Present
Fiery and fierce, computer geek and eco-activist, Abi is holidaying with her grandmother on an island off the Norwegian coast. Having developed and befriended an AI device, Moonlight, she hopes to organise a global protest. On the island, she learns her great-grandfather rejected the family's whaling livelihood, instead creating the first whale song recording. Inspired by him, Abi and Moonlight translate the whales' songs and discover their stories. Whales are under threat, their numbers rapidly dwindling. Abi is determined to help.
Autumn, 30 years later
The world's ecosystems are collapsing. There is no sight or sound of whales. Abi, her daughter, Tonje, and a now almost conscious Moonlight live on an isolated island in the Atlantic. They search for any sign of whales, but so far there is only silence.
Winter, the Future
Tonje's search was not in vain. Despite climate crisis and the threat of extinction, there is always hope for the future, as nature and technology combine in a captivating, action-packed adventure with a powerful environmental call to arms. For 12+
Video and Q&A with author Chris Vicks
Reviews
Clair
Abi's involvement in Earth Crisis as a climate activist has led to her being excluded from school. Deciding she needs a holiday, Abi's dad takes her across the North Sea to a remote Norwegian Island to see her grandma and cousins. Much to Abi's dismay, there is no internet connection on the island. She has 'borrowed' NewTek's futuristic AI computer, Moonlight and brought it on holiday with her, even though she should have returned it after she had completed her project, so NewTek are trying to track her down to retrieve it. Abi, however, has plans to use the AI to research whale song in the hope that she can help the whales and ultimately save the world.
The Last Whale spans three generations. We start off in the present day with Abi and her AI computer; she discovers that her great-grandfather left a journals detailing his time on board a whaling ship and later his passion for the whales with his recordings of their song. The book then skips ahead 30 years to follow Abi and her daughter, Tonje, with their continued search for whales. Though in the future there is no sound of whale song, the seas have fallen silent and the ecosystem is starting to fail, energy and resources must be very carefully managed.
This is an action-packed adventure that will appeal to nature and tech lovers. The importance of saving the whales left me rooting for Abi and Tonje on their mission. The Last Whale is a magical book full of hope and at some points despair for the whale's plight and the future of our planet.  Alongside the whale storyline runs Abi's involvement with the theft of the AI from NewTek. In the beginning they are pursuing her for its safe return. Towards the end of the book, the AI has evolved, it can make its own decisions and has become really powerful…
The Last Whale is written by Carnegie-Shortlisted Chris Vick who is half-Norwegian; his grandfather was a boat builder and his uncle worked on the whaling ships. Chris Vick also works part time at Whale and Dolphin Conservation, where they are researching the role of whales in the carbon cycle and how they can help to fight against global warming.
The Last Whale is a very thought provoking read that has clearly been well researched.
298 pages / Reviewed by Clair, school librarian
Suggested Reading Age 11+
Clare
The holidays have arrived, and teenage climate activist Abi is reluctantly dragged to a remote island off the coast of Norway to visit her grandmother. Thrown out of school after being identified as a 'tek disrupter', Abi's worst nightmare is a holiday without internet connection and an annoying younger sister for company.
Having 'borrowed' a sophisticated AI after winning a tech comp, Abi is eager to use the new technology to continue her campaign of disruption under the banner of activist group Earth Crisis. But her beloved grandmother Bestemor distracts her when she mentions that the whale population will soon pass the island.  Inspired by what she sees Abi begins delving into long forgotten recordings of whales and her great grandfather's role in monitoring and recording their activities. Soon a pattern emerges, and Abi realises she is on the brink of an incredibly discovery.
Abi is a totally believable teenage protagonist - passionate, single-minded and judgmental! And Tig is an equally believable annoying younger sister. Although the parents remain periphery figures, it is grandmother Bestemor who provides the adult guidance here - sometimes in a distinctly rebellious way. Singular and calm, Bestemor is the perfect foil for her impatient and intrepid granddaughters. 
A clarion call for environmental awareness, this book is tempered by a message that the older generations have an equal part to play in the planet's future and may have valuable experience and untapped wisdom. This is an ultimately hopeful book about our precarious existence on this planet and an endorsement for a multi-generational approach to environmental activism. It is also a wonderfully written, poignant and action-packed adventure.
298 Pages / Reviewed by Clare, school librarian 
Suggested Reading Age 11+
Other titles