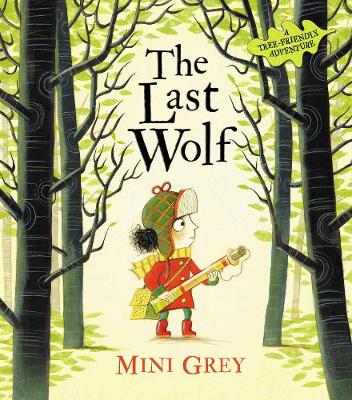 By Author / Illustrator
Mini Grey
Genre
Adventure
Age range(s)
5+
Publisher
Penguin Random House Children's UK
ISBN
9780857550927
Format
Hardback
Published
01-03-2018
Synopsis
Once upon a time, Little Red set off into the woods to catch a wolf . . .

But the woods aren't all they seem - and are there even any wolves left? Mini Grey re-imagines the classic Little Red Riding Hood fable in an entirely new way. Can Little Red help her new friends in need and recover the wild days of the past?

This is a powerful, moving and funny picture book which will have children and adults revisiting its exquisite pages time and time again, and discussing the important message it holds. From the award-winning author/illustrator of The Adventures of the Dish and the Spoon, The Pea and the Princess and Biscuit Bear.
Reviews
Kyle
Set 100 years or so after the original tale of Little Red Riding Hood, Mini Grey has created a wonderful story with an inventive modern day twist. One day Little Red sets off alone into the wood in search of a wolf to catch but the woods aren't all they seem to be. Her mum is understandably not to concerned, seeing that there haven't been any wolf sightings for over 100 years. Little Red ventures forward and into the forest, with Mini Grey using a fantastic array of language to help her on her journey. The verb choices really help the reader visualise Red's movements and offer great opportunities to extend children's breadth of language. Words such as stalking, lurked, slithered and pounced are all relatively new to many children but are words that they would love to use themselves. I would certainly be encouraging children in my Y1 class to 'magpie' these ideas. The story further develops and we see Little Red's viewpoint begin to change. We start to see her wanting to help rather than hunt and see her understand what has happened in the years since wolves were last seen. She leaves her new friends and finds her way back home - another unexpected twist is included here - where she decides to find a way to help. This is where the green message of caring for our world is introduced and we see Little Red begin to try and change the world for the future. The illustrations that accompany the text are wonderful and offer lots of clues to other classic fairy tales. A fantastic and innovative twist to a classic story, The Last Wolf is certainly a book that should be introduced when learning the original tale of 'Little Red Riding Hood' but also to compliment topics based around caring for our world. Picture book / Ages 4+ / Reviewed by Kyle Matravers, teacher.
Suggested Reading Age 5+
Other titles