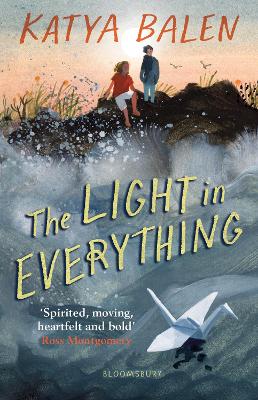 By Author / Illustrator
Katya Balen, illus Sydney Smith
Genre
Family & Home
Age range(s)
9+
Publisher
Bloomsbury Publishing PLC
ISBN
9781526622990
Format
Hardback
Published
14-04-2022
Synopsis
From the author of October, October comes a life-affirming story about blended families and learning to find room in your heart for new life and new love.
Tom is still quiet and timid, even though his dad has been gone for nearly two years now. Zofia is the opposite. Inside her there's a raging storm that makes her want to fight the whole world until she gets what she wants. And what she wants is for scaredy-cat Tom to get out of her life. Tom hates loud, unpredictable Zofia just as much, but he's moving into Zofia's house. Because his mum and Zofia's dad are in love... and they're having a baby. Tom and Zofia both wish the stupid baby had never happened. But then Tom's mum gets ill, and it begins to look horribly like their wish might come true...
A story of learning to trust, trying to let go and diving into the unknown with hope in your heart, with a stunning cover illustrated by CILIP Kate Greenaway Medal winner Sydney Smith.
Reviews
Sue
Born in a storm, Zofia is wild, unpredictable and tempestuous. She lives by the sea with her father. Tom is timid and withdrawn, constantly scared of the dark and the thought that his dad might return. The two children could not be more different yet each shares a close bond with their parent. And then their parents meet and before long, their families are blending and there's a baby on the way. Tom and his mother move into the cottage by the sea and neither child is happy about the situation.
The Light in Everything is a deeply moving and absorbing story which skilfully moves from the viewpoint of one child to the other, allowing the reader to explore their complex emotions, actions and reactions. Each has a coping mechanism - Tom folds paper cranes to control his shaking hands and Zofia heads for the sea to find peace. Each is terrified of the change they are facing, although for very different reasons, and as the story progresses, they each learn to face their fears and find hope in the future.
Emotionally charged as the story is, there are things that should be considered if offering this to a child as a teacher. The fear of being 'replaced' by a new baby is very real for many children and the challenges faced by blending more than one household can be very stressful. Zofia's jealousy is brilliantly captured, showing its self-destructive power. Tom's also dealing with the trauma of an abusive father and the constant fear he might return. His experiences have also taught him to expect the worst of people - particularly Zofia's father, the new man in his life. At times, his distress is palpable, making a painful read, but filling the reader with empathy and understanding.
A superb read, The Light in Everything is everything we have come to expect from Katya Balen - and more.
336 pages / Reviewed by Sue Wilsher, teacher
Suggested Reading Age 11+
Other titles