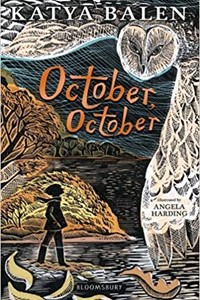 About Author
Katya Balen read English at university and then completed an MPhil researching the impact of stories on autistic children's behaviour.
She has worked in a variety of special needs schools as a teaching assistant, and more recently co-founded Mainspring Arts - a not-for-profit organisation that provides mentoring and creative opportunities for neurodivergent adults.
Interview
October, October (Bloomsbury Children's Books)
September 2020

Katya Balen's debut, The Space We're In, was highly commended in the recent Branford Boase Awards, and her new MG novel October, October is undoubtedly another award contender. The novel follows October who lives with her father, but whose life changes dramatically when she has instead to live with her mother.
Here, Katya tells us more about October, October:
What is October, October about?

October is an 11 year old girl who lives in the woods with her dad. They grow their own food and make their own electricity. She doesn't go to school, but she knows everything about every tree and every animal in her forest.
One day, her mother returns and October has to leave everything she's ever known. It's a story about belonging and what it means to be wild.
Why did you want to focus on child whose parents have separated?

I think it's important to show that there are many different types of families, and many different types of parents. Sometimes being apart is better for everyone but it's obviously still really hard.
I think when you're about October's age you start to realise your parents are actually real people who make mistakes or have their own wishes and wants. October's mum couldn't handle the wild life, but she loves October very much.
October has to face up to the fact that not wanting to live in the woods doesn't make her mother a bad person, and that the world outside her woods isn't as terrible as she'd always feared. That's a huge challenge for October.
October is a 'wild child' - what drew you to give her such a close link with nature, and to name her October?

It was definitely my dream to be a bit of a wild child when I was younger! I actually grew up in London and I love it so much, but when I was October's age all I wanted to do was climb trees and roam the countryside. I think children are automatically connected to nature so much more than adults are - they notice the small things and they just want to be free. They haven't yet been shaped by modern life. Nature gives them that chance, away from the pressures of school and routines.
When I was planning the book, I couldn't decide what to call my main character. I tried lots of nature names and nothing seemed to fit. I wanted to connect her to the world she knew and I also wanted her name to be unusual. It made sense that a child growing up outside of conventional society would have a slightly strange name. The name October popped into my head and it just worked.
Are you also hoping to encourage children to explore their own relationship with nature through October's love of the wild?

Absolutely! And you don't have to live in the countryside to connect with nature - I live in London and since writing this book I see nature all over. Birds and foxes, trees and flowers, tiny woods and big green parks. There are hidden corners of nature everywhere. Go and be wild!
Readers learn a lot about owls, too, through October's story - why did you choose an owl to help October better understand some of the changes in her life? Where did you go to learn about owls yourself?

I love owls - who doesn't?! The book begins with October finding a dead owl, and this is actually based on something that happened in real life. My father-in-law lives totally off-grid in his own woods, just like October and her dad. One day he found an owl that had sadly been blown out of a tree during a storm, and a story started in my mind.
I wanted October to have something to care for, and her relationship with the owl gently mirrors her own developing relationship with her mother. It also helps her understand what it is to be wild, what it is to belong, and when it's kindest to let go even though it hurts.
I spoke to the Barn Owl Trust for some help with owl care and development, and also went to visit a local bird sanctuary to see some of their residents. They're such beautiful creatures.
October loves treasure-hunting and in the story, you also give us a glimpse into Mudlarking, is this something you have done?

I am a mudlark! It's the most wonderful thing to do. You are guaranteed to find something that's hundreds of years old. I've got little jars of clay pipes and pottery on a shelf in my study.
I think my favourite find is probably a whole clay pipe, a little gold button from a child's coat, and a musket ball. You can't help but wonder who they belonged to and how they ended up in the water. They're little fragments of a life.
October is also a storyteller who sometimes struggles to find and tell her own story. Do you hope that her determination to do so might help children to recognise they can help shape their own stories - and future?

I hope so. There are so many things in life we can't control, but knowing that even if things don't go to plan, you can still find your way and build your future - that's so important.
What would you like your readers to take from October, October?

I think the knowledge that things aren't always perfect, and things don't always turn out how you expect, but that that's okay. You can find wonderful things in unexpected moments.
How would you like teachers to introduce their children to the book, and how would you like to see it used in the classroom?
I'd like teachers to talk about themes of belonging and of difference. It would be wonderful to see children writing stories based on things they scavenge or about being wild and free - where do they feel those things? It's different for everyone.
October prefers to live in the country rather than the city - what would be your choice? And how well would you cope with being self-sufficient like October and her dad in the woods?

I'm a London girl - I love the noise and buzz of big cities. I imagine I'd actually cope really rather badly being self-sufficient. I don't think I have the patience. As I said, my father-in-law lives off-grid in his own woods, and I see how much work goes into caring for the trees and living his life.
But there is something so magical about picking fresh tomatoes and mulberries and existing in this tree-fringed bubble. I feel very lucky to be able to go there and experience that. I suppose, a bit like October, I can have the best of both worlds.
What are you looking forward to the most now our own autumn is drawing in? What is your favourite time of the year?

I love the change of the seasons. That first crisp evening after long hot days, the first flakes of snow, the smell of spring and the feel of warm sun on your skin. I'm looking forward to hot chocolates and curling up under a blanket, reading by the fire. It's so lovely being cosy and warm inside when the weather rages.
What are you writing now?

I'm just finishing my third book - it's dual narrative and about two very different children who are forced together. They live by the sea, which I've really enjoyed writing about.
Have you read any other MG authors you'd like to recommend to our readers?

Always! There so many brilliant MG authors, I'm spoiled for choice. I really enjoyed Struan Murray's ORPHANS OF THE TIDE. I've just finished a sneak peek of the sequel and it's possibly even better. I loved Aisha Busby's MOONCHILD, Sara Pennypacker's HERE IN THE REAL WORLD and Natasha Farrant's VOYAGE OF THE SPARROWHAWK.
Author's Titles