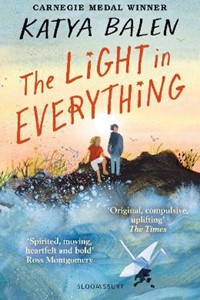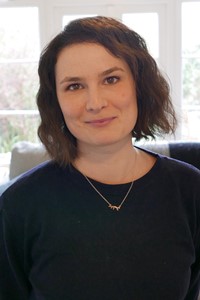 About Author
Katya Balen's The Light in Everything follows two children who must learn to live together in their new, blended family - but neither is finding the change an easy one. 
Katya read English at university and then completed an MPhil researching the impact of stories on autistic children's behaviour. She has worked in a variety of special needs schools as a teaching assistant, and more recently co-founded Mainspring Arts - a not-for-profit organisation that provides mentoring and creative opportunities for neurodivergent adults.  Her earlier novel, October, October, has been shortlisted for the Carnegie Medal 2022.
Interview
The Light in Everything (Bloomsbury Children's Books)
January 2023
Katya Balen, whose novel October, October won the Carnegie Medal, tells ReadingZone about her new book, The Light in Everything, about two very different children facing challenges in their newly blended family.
Read a chapter from The Light in Everything
Review:  "It took no time at all to be entranced by the beautiful prose and emotional depth of this wonderful story: I raced through it compulsively - and then felt a sense of loss when it was over too soon."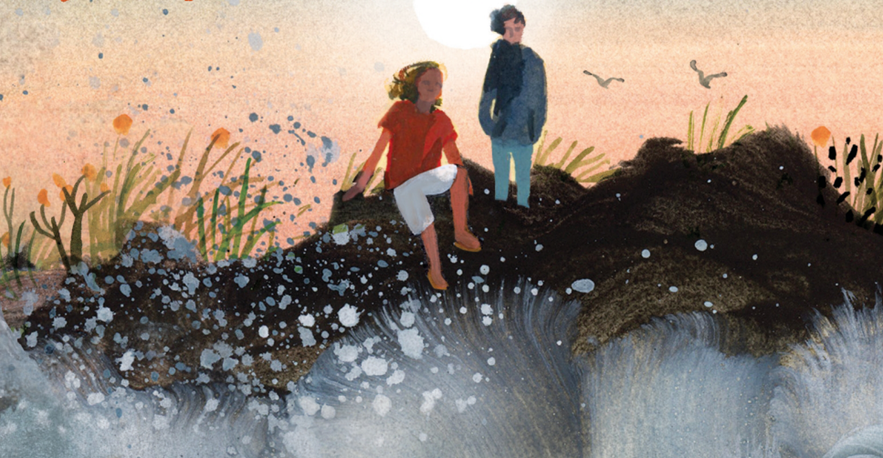 Q&A with Katya Balen
Congratulations on your Carnegie shortlisting for October, October. What did you think when you heard?
I was so thrilled! I think it's the thing most writers dream about, and it felt very surreal. I am so honoured and proud, especially when I look at the incredible books on both the longlist and the shortlist.

How do you feel your career as a writer has developed? Did you always want to write, and do any of your books stand out for you for any reason?
I am very happy with the way things are going at the moment. I feel I learn more and more about writing books as I go along, and I am getting better at finding ideas! I did always want to write, although I decided it maybe wasn't a realistic goal. I did lots of jobs, trying to work out what I wanted to do, and then settled back on my original plan!

Can you tell us a little about your new book, The Light in Everything, and what was at the heart of the story for you?
The Light in Everything is about two very different children - Tom and Zofia. They're forced to live together when their parents fall in love. They can't get along - they think it's because they're polar opposites, but the reality is they're both dealing with the same feelings. They just express them very differently! The story is about being brave and being afraid and how those things happen at the very same time.

Why did you decide to focus on a blended family in this story?
I think because it's such a common family structure, and there are so many difficulties and joys that can come with it. How do you throw together two different groups of people in a house and how do you make that work? Lots of children up and down the country and around the world will have experienced it, and some of them will hopefully recognise something of their lives in the book.

How did the dual first-person narrative come about, and why have you kept the text so sparse?
My editor suggested the dual narrative - it was a bit of a writing challenge as my style is so voice-focused. I think it was a brilliant idea - it works so well with the opposing characters and their different perspectives on the same situation. I hope it builds empathy and understanding for the reader.
Keeping the text sparse is just the way I write! It's not really a conscious choice, it's just how it happens. I think I try to have settings and emotions do a lot of work, and perhaps if I wrote less sparsely then there would be too much on the page!

Can you tell us how your main characters, Zofia and Tom, developed?
I like writing angry girls with lots of feelings. I also like writing sensitive boys. I think growing up, I probably read a lot of books where the girls were the quiet ones and the boys went on adventures. I don't think that's realistic and I don't think it's fair, so I am quite conscious that I want to show a whole spectrum of characteristics for both boys and girls. My characters came from that kind of thinking, and also from the setting I'd chosen.
The Light in Everything is set by the sea, and for Zofia it's something wild and exciting and something she wants to be part of and to conquer. For Tom, it's something scary and deep and mysterious. So the sea kind of represents both parts of their personalities and parts of the way they live their lives. 
I like to have big settings that tie into character in my books. And the sea felt perfect - it's so changeable and wild, so calm and deep, so much going on under the surface. It felt like it fitted both of my characters, and it became like a character of its own.

Why did you want to bring such very different characters together?
I think to show that the same emotions can be represented in such varied ways, and that there is always a point of connection between different people.

The focus is very much on how the children navigate the problems facing them. Why did you want the children to work out their problems, rather than the adults sorting things out for them?
I think that children remember most the things that they work out for themselves, rather than being told. Adults stepping in and solving things doesn't help them develop, and I suppose it might make the book a lot shorter too! But seriously, Tom and Zofia probably wouldn't respond very well to an adult just telling them to get along. It's something they need to explore and discover for themselves.

You also explore the effects of domestic abuse, was this a difficult area to navigate in a children's novel? Why did you want to touch on this?
It was difficult in that I wanted to paint a realistic portrayal and I wanted to be gentle and sensitive about it. Nothing actually happens in the book - there are hints of memories, but it's mostly about the aftermath. I think being right there in the moment would have been very hard to navigate, and there are some brilliant books that do just that. But I really wanted to show life, and hope, afterwards.

I think I wanted to touch on it for the above reasons - for the hope and reality and difficulties of life after domestic abuse. And because it's sadly part of the landscape of many children's lives, and books are an important reflection of reality.

What would you like your readers to take from the story?
An understanding of what it is to be brave.

What are you writing currently?
I'm just editing a draft of my fourth book for Bloomsbury. It doesn't have a title at the moment, but it's about two sisters and a wild journey and a mysterious fox.

What do you enjoy doing to relax when you're not at your desk?
Reading is the obvious answer! But I also love baking really extravagant things, and walking my whippet puppy, Mouse, in all sorts of beautiful places. I'm just about to start learning to ride a motorbike, too.
Author's Titles