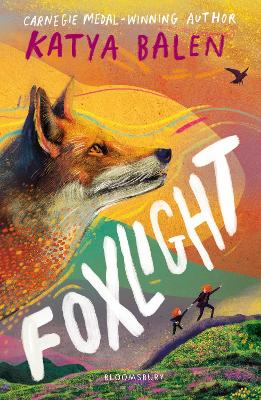 By Author / Illustrator
Katya Balen
Genre
Family & Home
Age range(s)
9+
Publisher
Bloomsbury Publishing PLC
ISBN
9781526640444
Format
Hardback
Published
28-09-2023
Synopsis
From the author of October, October, winner of the Carnegie Medal, comes a heartbreaking and heart-warming story about sisterhood, found family and accepting love in the most unusual and unknown places.
Fen and Rey were found curled up small and tight in the fiery fur of the foxes at the very edge of the wildlands. Fen is loud and fierce and free. She feels a connection to foxes and a calling from the wild that she's desperate to return to. Rey is quiet and shy and an expert on nature. She reads about the birds, feeds the lands and nurtures the world around her.
They are twin sisters. Different and the same. Separate and connected. They will always have each other, even if they don't have a mother and don't know their beginning. But they do want answers. Answers to who their mother is and where she might be. What their story is and how it began. So when a fox appears late one night at the house, Fen and Rey see it as a sign - it's here to lead them to their truth, find their real family and fill the missing piece they have felt since they were born.
But the wildlands are exactly that: wild. They are wicked and cruel and brutal and this journey will be harder and more life changing than either Fen or Rey ever imagined...
Find out more from author Katya Balen
Reviews
Beverley
Twin sisters Fen and Rey were found as babies at the edge of the wildlands, curled up with foxes. They were found at foxlight - "the moment when the twilight meets the dawn, and the sun and the moon and the stars weave their light together". Inside the blankets that covered them was a charcoal drawing of a fox - the only connection they have to their mother. Lissa saved them, and now, 11 years later, they live at the Light House with Lissa and several other foundling children. Although they are twins, the two girls are very different. Rey is wild and longs to explore the wildlands; Fen is quiet, shy, and loves her garden. When a fox appears in the grounds of the Light House, Fen believes that it has been sent to lead them to their mother, and the two girls set off into the wildlands in search of the truth about their missing family.
Foxlight is narrated by Fen, and we are swept along with the girls as they follow a mysterious map which guides them through the wildlands to a series of deserted houses. Beautifully written, the author gives us wonderful descriptions of the countryside the two girls travel through. Fen, who thought she was the brave one, finds herself afraid and uncertain in the wildlands she so longed to see. Rey, who seemed timid and shy, thrives in their new surroundings and is fearless in their quest.
At its heart, this very moving and thought-provoking story is about family, love and identity. Fen and Rey have never been apart for more than a few minutes, and are the closest of sisters. When events take a difficult turn and they go their separate ways, Fen is lost without Rey beside her. When Fen faces terrible danger, it is the thought of her sister which gives her the strength to survive and carry on.
The book is written in such a way that it almost feels like poetry. The chapters are short, and the whole narrative flows effortlessly, carrying the reader along to a beautiful conclusion. As she travels, Fen discovers much about herself and about how nature and the environment can change a person. The girls discover that the family they longed for was there all along, and although they may not know their mother, they do have people who love and care for them.
I feel very privileged to have been able to review this magical, lyrical novel, and I am sure that it will be loved by all those who read it. Katya Balen is a writer of immense talent, who writes so sensitively and allows us a real insight into the thoughts and lives of her characters. I was rooting for Fen and Rey the whole way through the book! The delicate page illustrations and beautiful front cover by Barry Falls are a perfect addition to a truly lovely book which should be an essential addition to every library.
272 pages / Reviewed by Beverley Somerset, school librarian
Suggested Reading Age 9+
Clair
Foxlight tells the story of 11-year-old twin girls who were found as babies at the edge of the wilderness. They are taken in and cared for by Lissa and they live at the Light House with other looked-after children. Each Sunday, the children are encouraged to write letters to their mothers. Fen and Rey do not know who or where their mother is so they have woven stories together, imagining who she was and what she was like. They believe they were found curled up with the foxes so one day, when a fox appears, they imagine being reunited with their mother if they follow the fox. Fen and Rey set out on a quest across the marshland, following the fox, with the hope of finding their mother.
The cover illustration for Foxlight is stunning. I was lucky enough to receive a hardback copy of this book and it looks and feels like something special. As an adult I really enjoyed the descriptive writing style and the idea of a community group setting out to rewild the land. I appreciated that the caregiver, Lissa, was portrayed in a positive light and that Rey and Fen had a cosy care experience.
Their adventure across the wilderness was slightly more gripping as they struggled to find food, water and shelter in the cold atmosphere. I also liked the curious rather than a furious greeting they received on their return. Ultimately, this is a book about appreciating what you have rather than what you do not. I love the relationship between the two sisters. They are very different in character. Rey is quiet and gentle, she loves nature and enjoyed making sketches in her notebook. Fen is more independent, it reads as if she was the older sister.
Whilst it is natural to wonder where you come from and have hope that you will be reunited with your mother. I'm not sure that 11-year olds would really believe that a wild fox would be the one to reunite them. I enjoyed reading this book as an adult. However, it is aimed at younger children and I'm not sure that there was enough of a plot to keep them hooked until the pace picked up towards the end. I think that Foxlight would appeal to a more mature reader who appreciates wildlife, adventure and a bit of mystery.
272 pages / Reviewed by Clair Bossons, school librarian
Suggested Reading Age 9+
Other titles