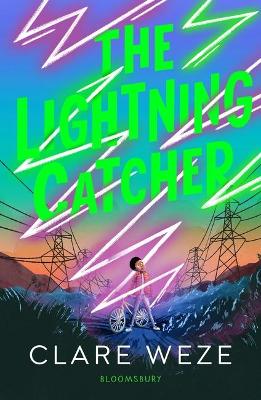 By Author / Illustrator
Clare Weze
Genre
Magical Realism
Age range(s)
9+
Publisher
Bloomsbury Publishing PLC
ISBN
9781526622174
Format
Paperback / softback
Published
13-05-2021
Synopsis
Alfie has noticed a few things since his family moved to Folding Ford. He really misses life in the city. He and his sister don't exactly fit in here. But the most interesting one is that the weather is BONKERS. One frost-covered branch on one tree in the middle of June? A tiny whirlwind in a bucket in the garden? Only in Folding Ford. Armed with his bike, a notepad and his new best mate Sam, Alfie is going to investigate. His best clue is Nathaniel Clemm ... the only thing in town weirder than the weather. When Alfie 'investigates' Mr Clemm's garden, only SLIGHTLY illegally, he finds a strange box that freezes his trainers and makes his teeth tingle. And when he opens it, only SLIGHTLY deliberately, SOMETHING gets out. Something fast, fizzing and sparking with electricity and very, very much alive. But the creature from the box brings trouble of its own, and as barometers and tempers go haywire in Folding Ford, Alfie finds himself at the centre of a perfect storm.  Skellig meets Stranger Things in this funny, heartfelt adventure story perfect for fans of Ross Welford, Christopher Edge and Frank Cottrell Boyce.
Reviews
Nathan
The Lightning Catcher is Clare Weze's debut novel for children and what a fantastic debut it is! The story centres around Alfie Bradley and his family who have moved from the city to the village of Folding Ford. The boredom of village life quickly settles in as well as the realisation that Alfie and his sister are the only children who aren't white.

Along with his best friend, Sam, they discover bizarre and baffling weather which fuels Alfie's curiosity to investigate, such as a frozen puddle on a hot day in July. Alfie's investigations begin with the mysterious character of Nathaniel Clemm, the cloaked strider. Alfie lures Sam to unearth the weird weather at Mr Clemm's house but astonishingly, they end up releasing an electrical creature into the atmosphere.

Alfie is keen to understand and help the creature he calls Whizzy; however, Whizzy doesn't make it easy for Alfie as it absorbs people's emotions often with negative disastrous outbursts of electric power at the most inappropriate times. As a result, his relationship with Sam and other members of the village, who have taken a dislike to Alfie, begins to weaken.

With Alfie's dad being away for work and his mum continuing to support Lily with bullying and eating difficulties, there is little support for Alfie. Alfie continues to build a special relationship with the only other person who can understand Whizzy until everything spirals out of control.

Clare excellently combines science and fiction to create a novel for children that inspires curiosity and celebrates differences in a refreshingly unique and capturing text. The story is written as Alfie's journal, which would provide a perfect stimulant for diary entry writing as well as inspiring unique story writing.

The Lightning Catcher also provides a brilliant hook for weather topics alongside admirably raising several essential topics for discussion such as racism, eating difficulties, bullying and illness.

I can see this Novel being used with children in the top end of primary school. I have already recommended this book to many colleagues and can't wait to use this text with my current Year 6 class as well as future classes.
272 pages / Reviewed by Nathan Cox, teacher
Suggested Reading Age 9+
Jacqueline
Alfie and his family move to the village of Folding Ford where the weather is completely crazy. Ice in the middle of summer, rain over just one house and temperatures and tempers going crazy. Alfie and his new friend Sam start to investigate and Alfie unwittingly lets loose a strange creature that seems to be the cause of the problem.

Alfie, however, is soon marked out, wrongly, as a troublemaker and things get increasingly difficult for him. The creature is unwittingly causing Alfie to get into huge amounts of hot water and no-one will believe it is a strange creature causing all the problems, will they?

This is Clare Weze's debut novel for children. She has picked an interesting angle because Alfie is one of the very few brown faces in the village. I thought perhaps the story would go down that avenue, but it touches only briefly on the topic of racism.

The book is written in the form of Alfie's journal and it becomes a little disjointed due to this. Alfie's voice is strong but the story rushes along at such a pace I sometimes lost the thread of the narrative.

There are several larger-than-life characters; Mr Clemm, Mr Lombard, Alfie's sister Lily and some of the local boys are vividly drawn. The strange creature Alfie released is also described in detail, so that it is easy to imagine Alfie's joy at seeing it and the incredible properties it appears to have.

The book also has many curious real facts and information about nature which are fascinating and almost unbelievable - which children will like. Things like the giant guinea pigs, called capybara, make this an interesting read.

TRIGGER WARNING- this book covers the topic of eating disorders as Alfie's sister Lily is recovering from an eating disorder, started by bullying in her previous school.
272 pages / Reviewed by Jacqueline Harris, teacher
Suggested Reading Age 9+
Other titles