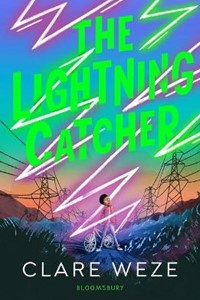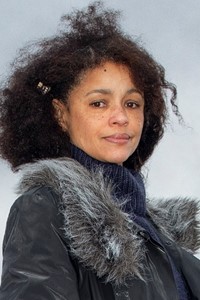 About Author
Clare Weze was raised in London and Yorkshire and has British and Nigerian heritage. She writes for adults and children and has always written around her day job, starting out as a hairdresser in London's West End, then moving on to a science degree, postgraduate studies and work in the fields of biomedical and environmental research. The Lightning Catcher is her debut novel for children.
Author link
Interview
The Lightning Catcher  (Bloomsbury Children's Books)
May 2021
The Lightning Catcher, Clare Weze's debut novel for children, weaves magic and science into a real life adventure story. The story is set in a small village with some big characters, and some very odd weather...
Here, Clare Weze introduces the book's themes of friendship, alienation and science:
Q&A with Clare Weze
1. Your background is in science and research, so what has brought you into writing for children?
I edit scientific papers now, working on other peoples' research after a number of years doing hands-on research myself. I worked for an institute that focused on ecology, so I'd sample soils, vegetation, etc., and even sand from beaches that had been contaminated by oil, then I'd take it all back to the lab and grind it up for other scientists to analyse. That grinding stage was one of my favourite jobs! It took place in a room of its own and it was noisy, so you were allowed to have the radio on and relax (and make writing notes in notebooks…). Then I moved into health research.
I started editing papers when my children were young, but I've always written fiction. It was one of my first goals in life, and I wrote my first book at the age of eight. I ran writing alongside my day job all the time. Eventually I started getting published in a small way so the proportions of time devoted to day job and writing shifted.
I began in children's writing right from the start, and ventured into writing for adults in my twenties, but always had a children's novel on the go. What brought me into writing for children was the books I read as a child. Nothing has come close to beating that feeling, and I wanted to recreate it for other children.
2. Who were your go-to authors as a child?
Philippa Pearce, especially for A Dog So Small; Tove Jansson for the Moomin books; John Gordon for The Giant Under the Snow and Patricia Wrightson for An Older Kind of Magic and Down to Earth. Those last two influenced me hugely, as the author made all the events feel absolutely true.
3. Can you tell us a little about your new book, The Lightning Catcher?
It's about boy who's moved to a village called Folding Ford and finds the weather full of localised glitches: frozen puddles on boiling hot days, a patch of ice on one branch of one tree, and a whirlwind in one of his dad's buckets all by itself. So he starts to investigate and makes a new friend - Sam - along the way.
Their best clue lies in the garden of a very strange character called Mr Clemm, but because everyone in the village is wary of him, especially the children, Sam wants nothing to do with investigating his strange, junk-filled garden. So Alfie ends up trespassing in the garden alone, lets out a creature he thinks is trapped and distressed, and a wild and weather-filled adventure explodes from there. You could say that the whole thing blows up in Alfie's face.
4. Was there one event or image that sparked the idea for The Lightning Catcher?
The initial spark came from watching a child's reaction to my description of our house, which is on a lonely lane and has tall trees in a row that look as if they're guarding it. The child was rapt, and I began to look at that setting more closely. I changed the house itself into a farmhouse where one lonely man lives surrounded by animals and defunct machinery that he's lost control of. Everything else grew from there. Once I had a character who was drawn to that place to solve a mystery, I could then feed in some of my main interests: weather, biology and electricity.
5. How did your main character, Alfie Bradley, develop? Do you draw on people you know well for your characters?
Alfie's personality started during one of my children's birthday parties. An older boy arrived and commanded the party tea table with the force of his personality. I liked his confidence and gave some of that to Alfie, but as always happens, Alfie took off in his own direction and became very different.
It's fascinating to look back and notice how your brain moulds a character, because it mostly takes place subconsciously over time. I can definitely relate to authors who say their characters surprise them. I sometimes use people I know as placeholders until the real character grows, but there's rarely any resemblance between what I started with and the person my subconscious creates.
Alfie's much braver than I am, and he needed to be if his investigations were ever going to get off the ground. He gets into the kind of trouble that I'd run a mile from. Alfie's best friend Sam had a hand in moulding Alfie's character, actually. The more horrified his reactions to Alfie's big ideas became, the more solid Alfie began to feel to me.

6. During his adventures, Alfie releases an energy force, 'Whizzy'. Have you drawn on your science background to develop Whizzy?
Yes, my scientific background informed every aspect of Whizzy, from the way she looks and behaves to her home environment. Lots of technical research went into her development, most of which was too dense to make it into the book - things like her chemistry, original habitat, reaction to different pressures, etc.
I had a lot of fun with her, and loved her impact on the weather. She gets very confused in her new environment and discharges surplus energy everywhere, which was huge fun to write! I also felt sorry for her, because dangerous things happen wherever she goes, which must be very lonely.
7. Are there other characters who stood out for you?
I loved writing Mr Clemm because he's so misunderstood, and alienation crops up again, which is one of the book's themes. He's doing some quite dangerous and foolhardy things while his farm is collapsing around his ears, but he's also doing wonderful and tender things in his shoddy animal rescue operation.
I also enjoyed writing Lily and looking at the way she copes with her illness. A lot of it involves sparring and snapping at Alfie, who gives as good as he gets.
8. One of the important themes the novel explores is difference, why did you want to include this in The Lightning Catcher?
I didn't set out with that theme in mind, but it grew organically from the character and his circumstances, especially Alfie's desire to blend in and carry out secret investigations. Mr Lombard, the busybody, started as the kind of antagonist who's always getting in the way simply by patrolling his patch (the whole village). I think he was someone who missed out on his true calling in life: being a policeman.
However, the more Lucy Mackay-Sim (my editor at Bloomsbury) and I worked on character arcs and plotlines, the more we realised how bigoted his interference was becoming, and that he just couldn't help letting his prejudices influence his interpretation of events.
9. You also touch on bullying at school and how seriously it can affect children. How did you go about researching this?
I was interested in exploring what happens to victims of bullying after the initial phase seems to be over. Lily's slow recovery and all her relapses have lots of repercussions on other family members, especially Alfie, and I suppose I wanted to show the next episode in that story. Alfie experiences some bullying himself, and the domino effect of that has an important impact on the plot. This was a different type of bullying and it was interesting for me to explore how a taste of it changed Alfie's attitude compared with what Lily had been through.
I researched all this by reading lots of accounts from people who had been bullied at school. I also used real life research, as I've worked in a couple of places where people have been bullied too. It's interesting to see what bullies do when they think they're being watched, which could be a whole other book in itself! I felt for Lily a great deal and found her journey back to health very satisfying.
10. We also learn about conservation and supporting nature in the book. Are you involved in conservation work?
There was a lot of conservation work going on at the first research institute I worked for (formerly The Institute of Terrestrial Ecology, now Lancaster Environment Centre). I wasn't involved in a hands-on way but helped with some of the database work, and I still take a huge interest in it. I belong to various groups that are trying to make things better for animals.

11. Other than a great adventure story, what would you like your readers to take from The Lightning Catcher?
To keep trying when life throws obstacles in your way. To find amazing things hidden in everyday life. Not to lose heart when someone has the wrong idea about you, because things have a habit of working out. And if you're every uprooted from your old life, as Alfie is, perhaps it might lead to new and exciting things.
12. What are you writing currently, and where do you prefer to write?
I'm writing my next book for Bloomsbury, which is set in a small down-at-heel seaside town. It's about a British-Nigerian girl who has been sent to live with her grandparents, so it's another transplantation theme. I love those, as they give you so much conflict and heightened emotion from the start. My new character is mourning the loss of her home after an eviction, but when she sees someone in the sea who looks like they never, ever come onto dry land, things start to get more intriguing for her.
I like to write at a table, but I've also cobbled together a standing desk, because I can't sit down for long. If other work doesn't intrude, I like to begin after breakfast and write all day. Otherwise, it's any pocket of time I come across.
13. What are your favourite escapes from your desk?
I have three favourite coffee shops to write in, and they're all owned by the same family in my local town. The staff swap round, so I see people I know in each one, and I vary them according to my mood. There's one high up on a hill next to a castle, and one in the town centre, tucked away in a quiet square. They're all very inspirational, and there's no washing up calling to me!
14. Are there any children's books you've recently read that you'd like to recommend to our members?
I enjoyed Sharna Jackson's High Rise Mystery because I love reading about children investigating mysteries. And I loved Lenny's Book of Everything by Karen Foxlee. I was totally immersed in it and couldn't put it down. The writing is gorgeous, and the characters feel like they're in the room with you. I think children's fiction can be read at any age, but I really wish that book had been there for me when I was growing up.
Thank you, Clare, for joining us on ReadingZone!
Image: Bentham Imaging
Author's Titles