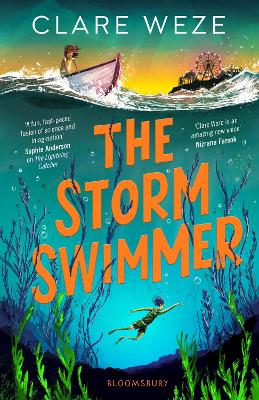 By Author / Illustrator
Clare Weze
Genre
Friends and family
Age range(s)
9+
Publisher
Bloomsbury Publishing PLC
ISBN
9781526622211
Format
Paperback / softback
Published
19-01-2023
Synopsis
The author of THE LIGHTNING CATCHER is back with an exciting, imaginative and heartfelt middle grade novel, perfect for fans of The Girl Who Stole an Elephant and The Shark Caller.
Summer was supposed to be Ginika's time for fun, friends and fairs. But instead she's been sent to live at the dead-end seaside boarding house her grandparents run. Even though her parents say it's just for a little while, she can't help feeling abandoned and heartbroken to be missing out on everything she loves back home.  And then she meets Peri. He leaps and dives through the water like a dolphin and he talks like a burst of bubbles. He's not exactly a mermaid, but he's definitely something Ginika's never seen before.  His family is far away too, but unlike Ginika, he loves his independence. As Ginika shows Peri her world, she starts to feel free as well. They don't need anyone else when they've got each other. But then the lights and noise of the human world start to change Peri. And when things spin out of control, Ginika must be the bravest she's ever been to face her fears and make the hardest decision of her life.
Join Ginika and Peri as they dive beneath the waves and walk the lands that will take them into each other's worlds on an adventure they will never forget and a life-changing friendship.
Find out more in this Video and Q&A by author Clare Weze
Reviews
Beverley
Ginika has so much to look forward to. It's her last summer holiday before she goes to secondary school and, along with her best friend Alisha, she's preparing to take part in an important dance show. Everything changes when her parents are forced to leave their flat due to money troubles, and Ginika is sent to Cumbria to stay with her grandparents in their boarding house on the coast. She knows its not for long, but she's upset at missing out on everything back home in London. She also feels that her parents are keeping secrets from her.
She tries to settle into life in Cumbria, but finds it difficult at first. Then, while sitting on the beach one day she meets a strange and unusual boy. Peri is a 'Sea Person'. He can ride the waves like a fish, has webbed hands and feet, and his speech is a mix of trills and clicks, his laugh rings like split bells. As the days go by, Ginika grows closer to Peri, learning how to communicate with him. He is fascinated by the street lights he can see from the beach, and Ginika finds a way to take Peri closer to them. Peri and Ginika embark on a series of adventures but, when problems arise, Ginika has to confront her greatest fears to try to avert tragedy.
The Storm Swimmer is a thought-provoking and beautifully written book, with themes of family and friendship running throughout. Ginika is a lovely character, brave and loyal and determined to do the best for Peri. She meets up with Scarlett, whose family own the Bridleways Bay Caravan Park. At first, Scarlett seems overbearing and bossy, teasing Ginika and making her feel uncomfortable. But Ginika comes to realise that she has been unkind to Scarlett too, and has misjudged her. As the story unfolds, Scarlett proves to be a good friend, facing danger with Ginika as they attempt to help Peri.
The conclusion of the story is both satisfying and moving. The book is a clever mix of adventure and science; the author's note at the end of the novel gives the reader a more detailed insight into how the character of Peri was created, and explains his fascination with light. I thoroughly enjoyed spending time with Ginika and Peri, and would love to know what happens when they meet again!
336 pages / Reviewed by Beverley Somerset, school librarian
Suggested Reading Age 9+
Other titles