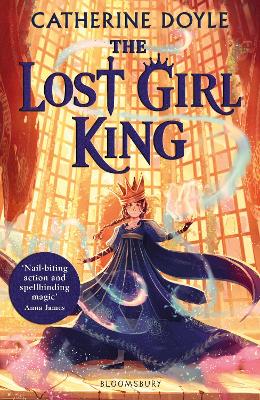 By Author / Illustrator
Catherine Doyle
Genre
Magical Realism
Age range(s)
9+
Publisher
Bloomsbury Publishing PLC
ISBN
9781526608000
Format
Paperback / softback
Published
01-09-2022
Synopsis
Amy and Liam Bell have been packed off to stay at Gran's house in the wilds of Connemara for the summer. Out for a walk on the first morning of their holiday, they trace the flight of a hawk to a nearby waterfall - only to watch the bird disappear through it. Intrigued, the children follow and soon realise they've discovered the entrance to Tir na nOg, the legendary land of eternal youth.  But they've been tricked. Almost immediately, Liam is captured by a troop of headless horsemen who take him to Tarlock, the ruling sorcerer of Tir na nOg, who is seeking the bones of a human child for a sinister new spell.
Packed with edge-of-your seat adventure, incredible imagination, humour and warmth, The Lost Girl King is the rare kind of story that has you reading long past lights out.   'The Lost Girl King echoes Lord of the Rings and Narnia, whilst being original and fresh. It's sure to become a classic of its own' - Aisha Bushby, author of A Pocketful of Stars. 'A glorious gulp of a summer adventure' - Piers Torday, author of The Lost Wild. 
Catherine Doyle reads from The Lost Girl King
Reviews
Hayley
The Lost Girl King is the thrilling new adventure story by Catherine Doyle. This book is infused with Irish mythology and language that allows you to be transported into another realm. Amy and Liam have been packed off to Gran's house for the summer. They are heading to Connemara on the west coast of Ireland. Gran is passionate about folklore and myths of the old country and when Amy discovers that Gran has published a book about fairytales, she becomes fixated on finding the magical kingdom of Tir na nOg but Gran warns against searching for the magical kingdom.
After finding a lucky sixpence in the walls of the house, Amy takes this as a sign and persuades her brother to go on an adventure to search for Tir na nOg. It is from here that we are plunged into the adventure with Amy and Liam discovering the realm of Tir na nOg, but they do not realise the danger that lies in waiting for them. Tir na nOg is no place for children and Amy quickly learns that her holiday has turned into an impossible quest to save her brother and the magical Kingdom from the desolate state that has befallen upon it.
This book is fantastic as it captivates us with Irish mythology running through the whole adventure. Children will love the characters. Amy is feisty, strong headed and fearless, whereas Liam is kind, wise and exhibits a steely resolve despite being in situations that are terrifying. Children will gain an enormous amount of pleasure from reading this thrilling adventure story and I would recommend this for any KS2 classroom or library.
308 pages/ Reviewed by Hayley Summerfield, teacher
Suggested Reading Age 9+
Other titles