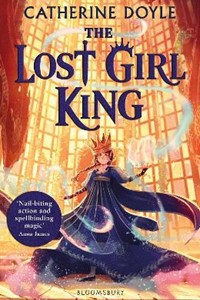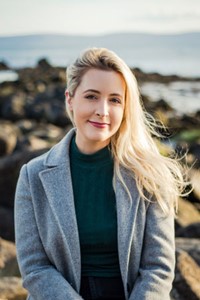 About Author
Catherine Doyle grew up beside the Atlantic Ocean in the west of Ireland. Her love of reading began with great Irish myths and legends, and fostered in her an ambition to one day write her own. She holds a first class BA in Psychology and a first class MA in Publishing from the National University of Ireland, Galway.
Her debut middle-grade novel, The Storm Keeper's Island, was inspired by her real-life ancestral home of Arranmore Island, where her grandparents grew up, and the adventures of her many sea-faring ancestors. After living in Dublin City for two years, Catherine is now based in Galway but spends a lot of her time in London and the US.  She enjoys watching movies, running and travelling.
Interview
The Lost Girl King  (Bloomsbury Children's Books)
September 2022
Read a Chapter from The Lost Girl King
Catherine Doyle's new adventure takes us to Tír na nÓg, a magical land from Irish mythology, where siblings Amy and Liam discover a terrible curse that threatens to change it forever. Catherine tells us how her Irish roots helped inspire the story, and about the legends and mythical creatures that inhabit this adventure.
Q&A with Catherine Doyle
1.   What kinds of stories do you most enjoy writing?
I love writing epic adventure stories - the more magic, the better!

2.   Can you tell us a little about your new book, The Lost Girl King?
The Lost Girl King is the story of siblings Amy and Liam, who go to stay with their gran one summer only to stumble through an ancient waterfall, into the mythical land of Tír na nÓg, a kingdom where time stands still. But they soon realise the kingdom is cursed, and when Liam gets kidnapped, Amy must gather together a band of the most fearless warriors in Tír na nÓg (including herself!) to rescue him and the land before it's too late.

3.   What took you to the land of Tír na nÓg for this story? 
When I was a child, my dad always read bedtime stories to me, and my very favourite one was the Irish legend of Tír na nÓg. It's an epic fairytale-like kingdom, where everyone is young and free and happy. It's a bit like a Celtic Neverland, with sprinkles of Narnia thrown in. It's pronounced: Cheer Nah Nogue (to rhyme with rogue!).

4.   How much does being Irish influence your storytelling?
My middle grade adventures are often rooted in the most magical parts of Irish culture. We have such a rich history of enchanted myths and epic legends here. I grew up reading them, and now, whenever I sit down to write a new adventure story, I look to those to inspire me.

5.   There are some magical and truly terrifying creatures in The Lost Girl King, but how much of this story is based in Irish myths?
All of the creatures in the story, including the Pookas (humans trapped as animals) the Dullahan (a terrifying band of shadow riders), the fearless Fianna warriors, and the Selkies all come from different Irish myths! I've just moved them all into the kingdom of Tír na nÓg 😊

6.   Do you visit places to help with your settings and storytelling?
I live in the west of Ireland, in a place full of rolling hills, fields of wildflowers, and jagged silver mountains. On windy days, I can taste the sea on the wind and in summer, I can smell it when I open my window. It inspires me every day!

7.   Can you tell us about the siblings, Amy and Liam, who find themselves in Tír na nÓg?  Why do they work so well together, and why do you focus on siblings in this book?
Amy and Liam work well together, because they love each other (even when they bicker). I love writing about sibling bonds because I have two brothers who I am very close to, and even though we used to argue like cats and dogs when we were children, we would have done anything for each other - even if it meant defeating an evil sorcerer!

8.   You create an amazing array of supporting characters, and villains - do you have any favourites?
I love writing villains. Tarlock was fun to write, and I loved Conan the Squirrel too.

9.   Other than a great adventure, what would you like your readers to take from this adventure?
The enduring power of teamwork (and hope!) when it comes to saving a mythical kingdom from a curse, or our own world from pressing issues like Climate Change.

10.   Where do you prefer to write, and what does a good day of writing look like for you?
I like to write in my house at night. I like when the world is quiet and still. A good writing day is any day when I reach 1,000 words, but sometimes, they can involve a lot of thinking and daydreaming, and that's OK too.

11.   What are you writing currently?
For my next book, I'm looking beyond Irish myths and legends. It's a swashbuckling adventure, and it's been so much fun to write.

12.   What do you enjoy doing when you're not at your desk?
I love going on adventures with my dog, Cali, and watching movies!
Author's Titles