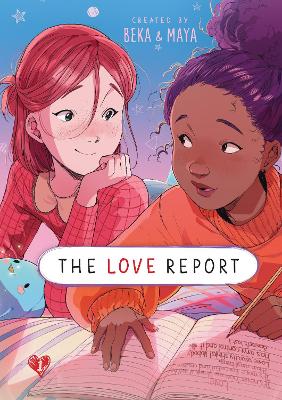 By Author / Illustrator
Beka .
Genre
Comics & Graphic Novels
Age range(s)
11+
Publisher
Astra Publishing House
ISBN
9781662640414
Format
Paperback / softback
Published
13-06-2023
Synopsis
BFFs Grace and Lola try to unravel the mystery of romance with a plan to observe, study, and analyze the ways of love at their middle school in the first book in this addictive graphic novel series. BFFs Grace and Lola talk about everything related to romance-and have lots of questions: What about the mysterious allure of the popular girl at school? And the rebellious goth with the reputation? And boys. They don't quite understand what makes some school romances soar to legendary heights, while other flirtations fizzle. Lola has an idea-they'll observe, study, and analyze all the couples at their Junior High-and compile their findings as The Love Report. Surprises await them, and force them to learn to see beyond appearances in this fast-paced series opener. They'll also discover secrets between themselves.
Reviews
Julie
Grace and Lola are best friends. They want to try to unravel the mystery of how teenagers fall in love and what that looks like, so they decide to write the Love Report. Curious at first, it all begins as a bit of fun. They observe the popular girl in school and try to figure out what exactly it is that the boys find so attractive about her. They follow couples to look out for what makes them attracted to each other.
It all starts off light-hearted and in good spirits. However, when they are introduced to Adele, the goth, edgy girl, they soon discover how mean gossip can destroy someone's reputation. As Grace and Lola start to dig deeper, they realise there is a lot more to love then they could have ever imagined. It is not always joyful and happy; it can also be hurtful and cruel.
The Love Report is the first book in this fantastic new graphic novel series. The creators Beka and Maya introduce us to a host of fantastic female characters who are not only really funny and engaging, but we quickly discover they are also flawed. Like all teenagers, they are just trying to navigate their way through life. I really enjoyed discovering about each of the characters and this first book really sets out each of their personalities. Charlie is the school gossip, Felicity is the popular one, Lola and Grace are trying to figure out what love is, and Adele is the edgy one.
The book really carries a positive message, and it is about girls supporting girls as they try to figure out school, family and their teenage years. I am sure that this new graphic novel series will be a huge hit with Manga fans and those younger fans of the Heartstopper series. The illustrations are fantastic and vibrant and really do add to the characters' personalities. I also think it is more accessible for a younger audience too and would recommend for readers aged 11+.
I am really looking forward to Volume 2 of The Love Report and can't wait to find out what will happen next.
192 pages / Reviewed by Julie Broadbent, library manager
Suggested Reading Age 11+
Other titles