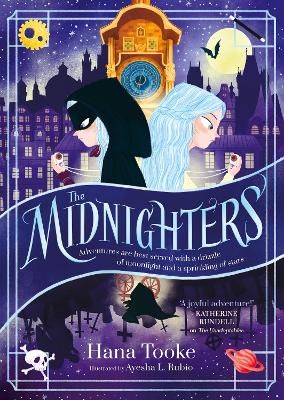 By Author / Illustrator
Hana Tooke
Genre
Mystery & Detective
Age range(s)
9+
Publisher
Penguin Random House Children's UK
ISBN
9780241417515
Format
Hardback
Published
23-06-2022
Synopsis
Find the courage to be extraordinary . . .   Ema Vaskova has always felt different. In a family of famous scientists, there's not much room for superstition or omens - but they seem to follow Ema wherever she goes. It doesn't help that she appears to predict events before they happen, and has a peculiar fear of shadows . . .  When Ema is sent to stay with her eccentric uncle in Prague, she fears she'll lose the chance to ever fit in. But then she meets Silvie - a girl who finally sees Ema for the extraordinary person that she is. Soon the girls are meeting for secret midnight adventures, and facing Ema's fears together.    But then disaster strikes. Silvie goes missing - and it's up to Ema to find her. Now she must gather the courage to hunt the city, find her friend, and uncover the secrets of the one clue Silvie left as to where she might be - inside the mysterious Midnight Guild . . .
Reviews
Hayley
The Midnighters is a ghostly tale of two friends and one murder mystery set in the gothic city of Prague. We are first introduced to the character of Ema Vašková when she is born. Her birth marks the end of her grandma's life - Liliana - and the beginning of hers, which is strange because she is the 12th child, born on the 12th day of the 12th month.
The Vašková family are a well-known famous family of scientists with each one of them receiving accolades for their fields of study. Ema is different, she does not have a field of science and fails to pass the interview for the prestigious school that her brothers and sisters have all attended. Ema has her own theories that she wishes to pursue - 'shadowology', but they are dismissed by everybody that she shows them to.
As Ema grows, strange things start to happen to her; she appears to predict events before they happen and has a peculiar fear of shadows. When Ema's parents decide to join her older sister Františka on an expedition, she is sent to stay with her eccentric uncle. Ema fears she'll lose the chance to ever fit in. But then she meets Silvie, a girl who lives in the abandoned house opposite her Uncle and soon together they start their midnight adventures and Ema finds someone who helps her to understand who she really is. But then disaster strikes and Silvie goes missing and it's up to Ema to find her.
This book would be brilliant for readers aged 9+ who will love to follow Ema on her adventures as she navigates through the city and uncovers a world full of mystery, illusion, spies and secrets.
416 pages / Reviewed by Hayley, teacher
Suggested Reading Age 9+
Janet
The Midnighters follows the story of Ema who lives in Prague in an unspecified time, the youngest of a very scientific family, all of whom specialise in something different. Ema knows that the number 12 means something to her, that she seems to know things will happen before they do, and has a thing about shadows - but she has not found her speciality just yet.
While staying with her uncle (who has the most amazing and very large cat), Ema meets Silvie who introduces her to the midnight world. But then Silvie disappears, and Ema resolves to find her, entering the world of the Midnight Guild. 
This is not a book to categorise at all, being just as quirky and unusual as Hana Tooke's first book. Ema is confused, trying to find her place in her large family and in the world, uncertain about her ability to know things will happen and her fear of shadows.  Silvie, mercurial and almost hyper-active, is her exact opposite, and the two make a fascinating pair, having fantastical adventures in Prague at midnight.
Things turn really serious when a murder occurs and this is when the story deepens, but also involves a very large amount of detail, with a number of different characters introduced to the reader, which at times make the thread of the story a little difficult to follow.  The descriptions of the events and scenes at the Midnight Guild are amazing and imaginative. 
416 Pages / Reviewed by Janet, librarian
Suggested Reading Age 11+
Other titles