The Miracle on Ebenezer Street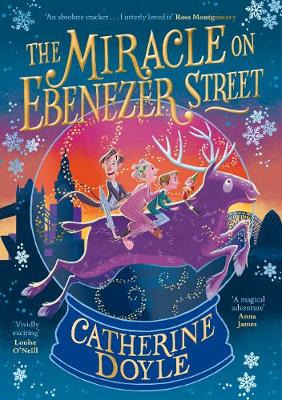 By Author / Illustrator
Catherine Doyle
Genre
Magical Realism
Age range(s)
9+
Publisher
Penguin Random House Children's UK
ISBN
9780241434277
Format
Hardback
Published
14-10-2020
Synopsis
A stunning modern reimagining of Charles Dickens' beloved classic, A Christmas Carol.

'Old Marley's magic was beginning to stir...'

When George stumbles across Marley's Curiosity Shop at the Christmas fair he finds a mysterious snow globe. The scene it contains is just the first of a series of impossibilities . . .  Alongside his Scrooge of a father, George is swept on an adventure that takes them to Christmas past, Christmas present and Christmas future.  With a little help from an enthusiastic elf and a rather grumpy reindeer, can George find a way to bring the joy of Christmas home once again?
Reviews
Jo
If Marley's shop is jam-packed with 'delectable treats' promising 'Christmas in every nibble, delight in every bite' then Catherine Doyle's tale promises Christmas in every chapter, delight in every page.

From inside the covers of The Miracle on Ebenezer Street come wispy echoes of the classic Charles Dickens' Christmas tale. There is a Marley, there are journeys to the past, the present and the future. There are humbugs and there's a purple reindeer. Hang on! A purple reindeer? Yes, a purple reindeer, an elf on the shelf and a walking, talking oil painted ancestor. This is an exciting, funny, surprising but truly poignant story of shattered snow-globes and broken hearts.

George isn't allowed to celebrate Christmas. He isn't allowed a tree, presents or even to mention the word, 'Christmas'. He isn't allowed to visit his Aunt and cousins, and his father, Hugo, works on Christmas Day. George's world, once full of happiness, love and colour is now a world of grey. There is no joy or fun and there's no Mum. Since George's mum died on a Christmas Eve, life has been cold and empty. Dad is grieving and George is lost and alone. Christmas is too painful for Hugo to bear and so it is banned from the household but luckily, George has Nana Flo in his life and with Nana Flo comes mischief and mayhem.

Thanks to Nana Flo, George encounters a very special shop at a Christmas market - a shop that sparks an adventure as fast and frenzied as a snowy blizzard. This is a quest unlike any other: it is a quest to find happiness once again, to restore the spirit of Christmas and to spread colour into all the dark corners. George must (and does) drag his father, kicking and screaming, through Christmases that were and Christmases that could be in order to wake him from his grief-induced stupor.  George and Hugo risk losing one another but, by facing up to their emotions, they aim to defeat the monster that threatens to destroy them - the monster of grief.

This is a Christmas book and so the painfully heart-tugging moments are beautifully balanced with humour, excitement and above all, hope. This story twinkles and sparkles like the tinsel on a well-dressed tree. It is a story that will make everyone believe in the magic of Christmas. It is a story that will bring a smile to your face and put a glow in your heart.

240 pages / Ages 8+ / Reviewed by Jo Clarke, teacher
Suggested Reading Age 9+
Other titles