The Misunderstandings of Charity Brown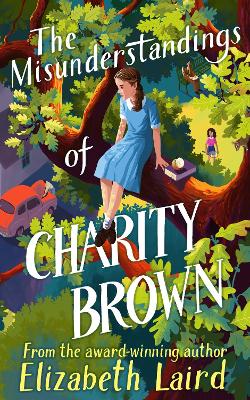 By Author / Illustrator
Elizabeth Laird
Genre
Historical Fiction
Age range(s)
9+
Publisher
Pan Macmillan
ISBN
9781529075632
Format
Hardback
Published
07-07-2022
Synopsis
Inspired by award-winning author's Elizabeth Laird's own childhood growing up in post-war London, The Misunderstandings of Charity Brown is a classic coming-of-age story, perfect for fans of The Skylarks' War and I Capture the Castle.

Charity Brown's life is about to change - her family have been left a huge, rambling house by a mysterious benefactor, and her parents want to move in and throw open its doors to the needy.  Only recently back from hospital after months of isolation with polio, Charity is over-protected and lonely as the only child still at home. Her family are very religious - her sisters are called Faith and Hope, and her brother Ted is studying to be a preacher - so she's both excited and nervous at the thought of sharing her family and new home with strangers.  It's a recipe for confusion, joy and endless misunderstandings, including with the new neighbours, an Austrian family with a daughter Charity's age . . .
Reviews
Linda
The Misunderstandings of Charity Brown is a coming-of-age tale, following the life of the protagonist, Charity Brown. Charity's family belongs to a strict religious sect and the story follows the young girl as she struggles to find her place in the world.
I am a big fan of Elizabeth Laird and so really looked forward to reading this book. Whilst it's a nice story, I cannot say it gripped me. It's semi-autobiographical, linking to Laird's own childhood, and it felt more like reading a biography than a fictional story. While it was an interesting read, it wasn't particularly exciting and it was hard to warm to the characters. The story doesn't follow a traditional structure, in that there isn't a single major event or problem to resolve, but rather the story is intermingled with smaller happenings. It's a gentler read, more focused on character development than plot.
As a result of a few sexual references, I wouldn't share this book with primary aged pupils. There are some complex themes which would make it more suitable as a secondary school read.
352 pages / Reviewed by Linda Canning, teacher
Suggested Reading Age 11+
Other titles