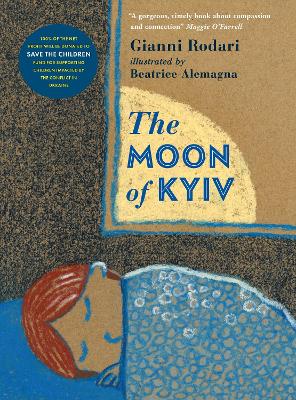 By Author / Illustrator
Gianni Rodari, Beatrice Alemagna
Genre
Picture Books
Age range(s)
5+
Publisher
Walker Books Ltd
ISBN
9781529513233
Format
Hardback
Published
07-07-2022
Synopsis
Over 70 years ago, Italian author Gianni Rodari wrote "The Moon of Kyiv" to remind us of the humanity we all share.  100% of the net profit from the sale of this book will be donated to Save the Children fund for supporting children impacted by the conflict in Ukraine.

In 1955, beloved Italian poet Gianni Rodari penned a nursery rhyme called "The Moon of Kyiv". It was a poem about our shared humanity - the poem reminding us that, no matter where we're from, or where we live, we all exist under the same moon. In the days following the outbreak of war in Ukraine, these lyrical words went viral in Italy: they became a call for peace. Six decades later, they resonate, and feel more relevant, than ever before.  Now, for the very first time, the poem has been illustrated by the incredible Beatrice Alemagna, whose beautiful pictures match Rodari's words in hope, purity and power.
Reviews
Maria
This simple tale opens the reader to many hidden messages; Reminding us that as big as the world is, we are all connected and share it together. That material objects are not the most important in life. The world is full of awe and wonder.
Is the beautiful moon in Kyiv the same as the beautiful moon in Rome? Or are they sisters? Of course the moon is the same! It just travels all night, reflecting light along the way. From India to Peru, The River Tiber to the Dead Sea, it is always there. The illustrations alone tell a tale and add extra context, comprehension and inference to the story.
Although simple in text, The Moon of Kyiv provides endless entry points to a range of learning. Where are these places? A great starting point for learning related to continents, countries and the world. Is the moon the same all the time? An introduction to space and moon phases.
Picture book / Reviewed by Maria Faithorn, teacher
Suggested Reading Age 7+
Other titles