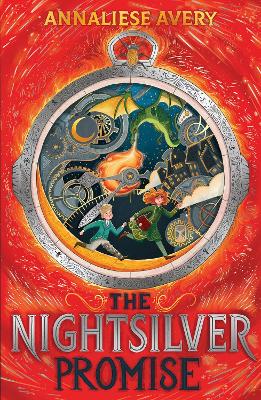 By Author / Illustrator
Annaliese Avery
Genre
Fantasy
Age range(s)
11+
Publisher
Scholastic
ISBN
9780702306037
Format
Paperback / softback
Published
06-05-2021
Synopsis
 When Paisley Fitzwilliam is summoned to receive the track of stars that will determine her future, she is filled with hope for the future. But the fate she is dealt throws everything upside down. Then her mother goes missing and the closely guarded secret around her brother Dax is more at risk than ever before. It seems that the previous metal night silver might hold the key. . . Can Paisley defy her stars and change the course of history? A breath taking journey through the Floating Boroughs and the dark sewers of London, capital city of the Empire of Albion. A thrilling fantasy debut with immersive world-building and tons of action! Perfect for readers of Philip Pullman, Diana Wynne Jones and Cornelia Funke. The first book in a bold new trilogy, destined to be a future classic.
Reviews
Matthew

- Age 11
The Nightsilver Promise is a real marvel! You are transported by author Annaliese Avery into a magical world governed by science and the destiny-led journey of a young girl named Paisley. Floating boroughs of London, mythical dragons and a brother who holds a secret of huge magnitude are just a few of Paisley's many stumbling blocks on her quest for survival and discovering who she really is.
Paisley's character, as a strong female lead, drives the narrative through the book and her dogged determination to choose her own path gives the reader a feeling that anything is possible when you are willing to fight for it. Her mother's disappearance and presumed passing spurs Paisley onwards, though we very quickly discover the internal battle that she has to fight.
The action-packed and occasionally humorous plot points keep the reader hooked - a complex world forms as the story progresses but Annaliese Avery ensures that the reader does not get lost in the dark and foreboding sewers along the way!
This is a brilliantly well-constructed book which I highly recommend for competent readers aged 10/11+. As a Year 6 class teacher, I would not only encourage my children to read the book independently, but I would use it as a stimulus for a fantasy writing project.  Fantasy writing for children is often one of the hardest genres to write due to the boundaries and rules of normal storytelling fading into insignificance at the wave of a wand or fizz of a teleportation device.  By using an alternative version of London as the main story setting, children can see how a fantasy setting does not necessarily need to be on an 'alien planet' but instead, based on a real place with a fantasy element built into it.
The Nightsilver Promise would give children confidence to write meaningfully without losing oneself in a nonsensical plot and a far-fetched setting. The Nightsilver Promise projects an air of His Dark Materials...a huge compliment for a debut book and the start of an exciting trilogy!
384 Pages / Reviewed by Matthew, teacher
Suggested Reading Age 11+
Other titles