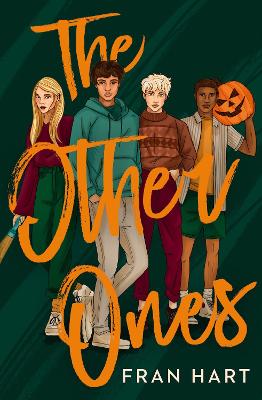 By Author / Illustrator
Fran Hart
Genre
Supernatural
Age range(s)
14+
Publisher
Chicken House Ltd
ISBN
9781913696320
Format
Paperback / softback
Published
13-10-2022
Synopsis
A spooky, cosy romance to curl up in front of the fire with - perfect for fans of Heartstopper and Gilmore Girls. 
Sal hates standing out. But he lives in a haunted house - and everybody knows it. His oldest friend, Dirk, tries to help... but he wants to stay popular, and Sal isn't helping. Elsie was popular - until recently. Now she's on the outcast's table too... and she doesn't want to talk about it. Then there's the new boy, Pax, who won't leave Sal alone. His idea of a good time is hanging out in graveyards. And, for some reason, Sal just can't stay away.
Meet The Other Ones. Can they banish their ghosts together? A cosy, contemporary romance and ghost story with spooky Gilmore Girls vibes Winner of the Times/Chicken House Chairman's Choice Prize, 2020 An LGBTQ+ romance between two very different boys, who readers will quickly root for and grow to love. For fans of Heartstopper - with a spooky twist.
Reviews
Morgan
Everybody knows the haunted house in the neighbourhood. Unfortunately this means that young Sal, who prefers to stay hidden, is thrown into the spot light. He envies an ordinary life with ordinary experiences but a strange boy, Pax, winds up on his door step, and his life grows even more complicated. Their unlikely friendship grows and flourishes, but the true meaning behind the hauntings puts their unlikely friendship at risk. United by being outcasts, Sal becomes friends with others who are just as marginalised.
This book about a haunted house is a perfect read for those who enjoy the autumnal months still holding onto the strings of summer.  This book is perfect for those fond of the Heartstopper books, in which they share similar friendships. The novel incorporates the themes of LGBTQIA+, mystery, friendship, horror / a halloween feel, and the graces of autumn. I would highly recommend this read for those who love a spooky story with passionate characters that completely engross you into the storyline so that you can see it so vividly.
352 pages
Suggested Reading Age 14+
Other titles