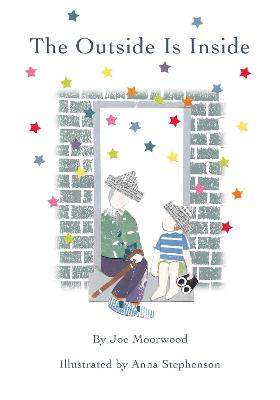 By Author / Illustrator
Joe Moorwood
Genre
Bereavement
Age range(s)
5+
Publisher
Great Northern Books Ltd
ISBN
9781914227141
Format
Paperback / softback
Published
01-09-2021
Synopsis
In this beautifully presented children's picture book, a young boy has misgivings when his elderly Grandad moves in. But concern turns to wonder after learning a magical secret. Share their adventure in a heartwarming story of love, loss and the power of imagination. The story's themes are multilayered, insightful and positive - offering an overriding optimistic message about love and connection.The Outside Is Inside was 'highly commended' by Roger McGough CBE, in The 2020 Caterpillar Poetry Prize. The rhyming story has been brought to life by uniquely eye catching Lino print collage illustrations.
Reviews
Kyle
Joe Moorwood has managed to create something very special when it comes to The Outside is Inside. This text is certainly not one that you would necessarily consider as a read loud during story time but it is priceless when it comes to allowing children to begin to understand and come to terms with the loss of a loved one...particularly the loss of a beloved grandparent.
The story is centered around a young boy who, despite loving his grandad very much, has some misgivings about him moving into his home and sharing his space. These initial concerns soon give way to awe and wonder after Grandad shares a magical secret with him. Before too long, the duo have formed an inseparable bond after spending hour upon hour creating new adventures to go on...all from the safety of the family home.
Feeling warm and fuzzy, the reader can't help but feel a connection with the characters and even smile and reflect on their own relationship with their grandparents. However, the harsh reality of real life soon kicks in when the brightness of the grandad begins to fade. You can feel the sadness of the young boy seep through the pages of the book but also feel his strength as he remembers all the memories he made.
This heartwarming tale is perfect for PHSE lessons within a primary school setting and as a school with a pastoral and nurture team, I will be recommending that they add this to their collection to help support those children who experience it for themselves.
Picture book / Reviewed by Kyle Matravers, teacher
Suggested Reading Age 5+
Other titles