The Peculiar Tale of the Tentacle Boy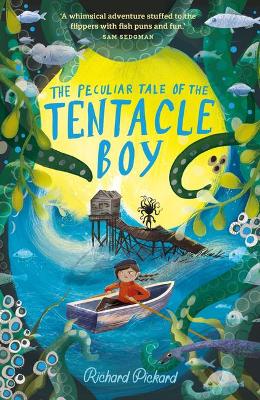 By Author / Illustrator
Richard Pickard
Genre
Adventure
Age range(s)
7+
Publisher
Chicken House Ltd
ISBN
9781913322397
Format
Paperback / softback
Published
05-08-2021
Synopsis
'Charming and delightful ... a whimsical adventure story stuffed to the flippers with fish puns and fun.' Sam Sedgman; 'The story has been polished like a pebble in a gift shop ... so charming and quirky is our voyage' The Times. 
Marina lives in Merlington, a fish-obsessed seaside town. Unfortunately, she doesn't care for fish; she loves telling stories. Marina finds her best story yet when she explores the ruined, haunted pier: a boy called William with a head of tentacles and crab claws for hands. He has lived on the pier all his life, cared for by a fisherman who has since disappeared and who warned him always to remain hidden. Together, the pair resolve to unravel the mystery of his past - but danger isn't far away...
The debut novel by Richard Pickard, a fresh new voice in children's fiction and winner of the Times/Chicken House Chairman's Choice Award 2019. A funny, dark, core middle-grade story touching on themes of lies, storytelling, secrets, acceptance and, of course, fish! Perfect for fans of Lemony Snicket's A Series of Unfortunate Events and Edward Scissorhands!
Reviews
Hayley
The Peculiar Tale of the Tentacle Boy by Richard Pickard is a heart-warming story of an unusual friendship that develops through the discovery of a deep-rooted mystery. The story is set in the fictious seaside town - Merlington and is jammed full of adventure and bravery. The story centres around the character of Marina Minnow, who unlike the fish-obsessed residents of Merlington, finds life in the town boring and tends to entertain herself and others by delving into the art of storytelling.
Marina's father has been missing at sea for six years and everyday she still remains hopeful that he will return. Not everybody in Merlington sees life as Marina does, so to prove everybody wrong she sets of on a real-life adventure. Taking to the sea, she heads for the old, abandoned pier in a small rowing boat. It is here that the story begins. Marina discovers William, living alone in the dilapidated pier that residents have long suspected as being haunted. However, William is no ordinary boy with tentacles for hair and pincers for hands.
Marina is startled by her discovery, but on the flip side feels almost connected to William through a story long ago told by her Grandma. The discovery of William changes Marina's focus on life and she is determined to help her peculiar friend find the mystery fisherman that saved him from the depths of the ocean. Merlington is not what it seems and the resident hold dark secrets from the past that will come back to haunt them.
I love the language of this book; it allows you to connect with the characters and brings the town of Merlington to life. This book would be brilliant for upper key stage 2 because it draws on themes of friendship, deceit and perseverance. I think this book is very much about acceptance and it highlights how difference can lead to prejudice. What I like is how it deals with prejudice and how it teaches tolerance and respect, which are key learning strands for key stage 2 PSHE.
293 pages / Reviewed by Hayley Summerfield, Teacher
Suggested Reading Age 9+
Other titles