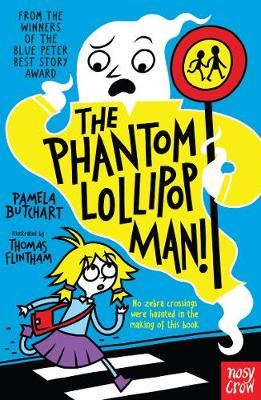 By Author / Illustrator
Pamela Butchart, Thomas Flintham
Genre
School Stories
Age range(s)
7+
Publisher
Nosy Crow Ltd
ISBN
9781788000482
Format
Paperback / softback
Published
08-02-2018
Synopsis
Izzy and her friends are shocked when they find their lollipop man has disappeared! Maisie thinks he's gone to Rome but if that's true, why do they keep seeing a weird white wispy cloud around the school? And why do Izzy's legs feel cold even though she's got tights on? Could it be that the lollipop man is a phantom and he's come to spook them all?! Laugh-out-loud fun from Blue Peter Award winners Pamela Butchart and Thomas Flintham.Read more of Izzy's adventures! Baby Aliens Got My Teacher The Spy Who Loved School Dinners My Headteacher Is a Vampire Rat To Wee Or Not To Wee! There's a Werewolf in my Tent There's a Yeti in the Playground The Phantom Lollipop Man Icarus Was Ridiculous
Reviews
Ruby
Izzy, Zach, Maisie and Jodi go to a normal school, in a normal county, in a normal country, but with a not so normal Lollipop man! When Jack the Lollipop Man is replaced with a new Lollipop Lady, the group get suspicious. Maisie is sure that he's in Rome, but the others just won't believe it. And when they see a floating Lollipop Stick in the corridor, things start to get REALLY weird! Pamela Butchart's 7th book of the series is a masterpiece with twists and turns at the end of every sentence! I would at once, without doubt, rate this book 5/5, for the humour and plot!
Suggested Reading Age 7+
Aidan
I'm always dubious of the quality of books aimed at the 7-9 age bracket, especially ones which feature lurid cartoonish illustrations and crazy typesetting. It can sometimes seem like funny books are the only thing available to children who are just getting into reading longer books, especially when it comes to newly-published material. And so it was with a degree of forced open-mindedness and some trepidation that I embarked on my reading of The Phantom Lollipop Man by Pamela Butchart, illustrated throughout by Thomas Flintham. But, spoiler alert, I loved it and you will too. I immediately devoured half the book, even laughing out loud in places where Butchart has clearly written with adults in mind. The fact that the author is a teacher and the book is set in a school (as are the other books in the series) makes for some hilariously insightful gags, all delivered with a touch of real affection - everyone who knows schools will identify with the deputy head who thinks they're the head teacher, the office ladies who know everything and the teacher who spends lunchtime secretly eating sweets in their classroom. As is usual with children's books, school life is a touch exaggerated - the children have a den under the stairs in school which they seem to find plenty of time to visit during school hours, Zach carries a smartphone at all times and the group of friends seem to spend a lot of time haring around the corridors. But it is exactly this that children will love; it's what makes the story more exciting. And after all, Izzy and her friends are getting up to nothing like the Famous 5 and Secret 7 used to - they're just having adventures that children can relate to more as the setting is so familiar. I quickly introduced it to my children - taking a book to read to them on a train journey was a stroke of genius, I must say - they told me they imagined the whole thing taking place in their own school. Reading the book aloud was a little bit of a challenge: Izzy's breathless and tangential narration means assuming the character of an excited year 4 child is a must. But it is this writing style which makes The Phantom Lollipop Man an endearing read, particularly as a parent of three girls and the teacher of many more primary-aged children. Despite this looking like a funny book, it actually tackles quite a serious subject matter - so much so that I actually almost had a little cry at the end. The story involves a group of children trying to solve the mystery of where their normal lollipop man has got to. They misinterpret information from the office ladies and believe him to be dead; sightings of him lead to their conclusion that he is dead, has come back as a ghost and has unfinished business that they must help him with. Adults reading the book will understand their blunder, but children might not. It ends up as an exploration of loneliness and old age and is a gentle reminder to any reader to value all members of society, especially those at risk of becoming marginalised. This aspect of the book makes it fully rounded and a perfect read for anyone in lower key stage two - vocabulary-wise it is perfectly pitched for this age group too with enough new words to explore without it becoming too much. As a family we've already begun reading the only other Pamela Butchart book in the house - her World Book Day offering, The Baby Brother From Outer Space! - such was our collective love for The Phantom Lollipop Man. I suspect that next time we visit a bookshop/library we shall be purchasing/borrowing a few more! I will also be less suspicious about brightly-coloured books with words written in bold surrounded by clouds and flashes - lesson learnt. 272 pages / Ages 7+ / Reviewed by Aidan Severs, teacher.
Suggested Reading Age 7+
Other titles