The Places I've Cried in Public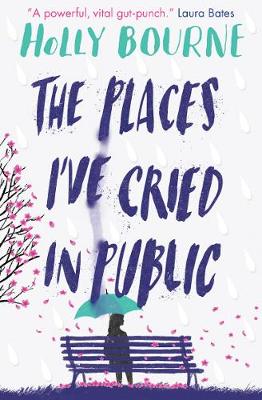 By Author / Illustrator
Holly Bourne
Genre
Romance & Relationships
Age range(s)
14+
Publisher
Usborne Publishing Ltd
ISBN
9781474949521
Format
Paperback / softback
Published
03-10-2019
Synopsis
It looked like love. It felt like love. But this isn't a love story. Amelie fell hard for Reese. And she thought he loved her too. But she's starting to realise that real love isn't supposed to hurt like this. So now she's retracing their story, revisiting all the places he made her cry. Because if she works out what went wrong, perhaps she can finally learn how to get over him.
Reviews
Linda
Holly Bourne has once again produced a story regarding young adult issues that is at times hard to read, but is emotive and totally honest... The story follows 16 year old Amelie (who is also the narrator of this emotive read) who has recently moved away from all that she knows due to her parents having to relocate. She is not a confident girl, but truly shines when she plays her music, which is how she gets noticed by Reese. Due perhaps to feeling 'the odd girl out', Amelie falls fast and hard for Reese, ignoring some of her gut instincts and friendly advice. He loves her, doesn't he? He told her. If things go wrong it's her fault, because he said so, he only tells her because he loves her so much! He's so romantic and loving, but is he?
Reece takes over Amelie's life and slowly makes her a puppet.  She doesn't see it, but when you are in love you don't see things the way other people do. When he ends their relationship, she realises that she needs to take back some control of her life. But while Reese is no longer a part of it, he still has control as she cannot get through a day without thinking what went wrong, what she did wrong for him to end it with her. She takes a journey back to where it all started and makes a memory map, with the help of her therapist, Joan, who helps her see that her relationship with Reese wasn't love; love doesn't make you feel the way that she does.
The scenes in the book with the therapist are moving and informative, as this is where the reader gets an insight about how trauma bonds work and why the love of those who abuse is so addictive. Through Amelie's journey, we discover that she isn't just emotionally abused, she is also physically abused but the author doesn't focus on the physical. Instead, she raises the signs of the emotional abuse as this is often harder to notice and can in some circumstances have an even worst effect.
368 well written, emotive pages suitable for 14+ readers, due to its content. This story would also be great for book clubs and PHSE sessions, once again due to the issues raised. There are thousands of young women like Amelie, making this an important book to read. It should have a place in every school library, along with the author's other books as she writes with undeniable tenderness, care and respect. Holly Bourne is a master at her craft!
368 pages / Reviewed by Linda Brown, school librarian
Suggested Reading Age 14+
Other titles