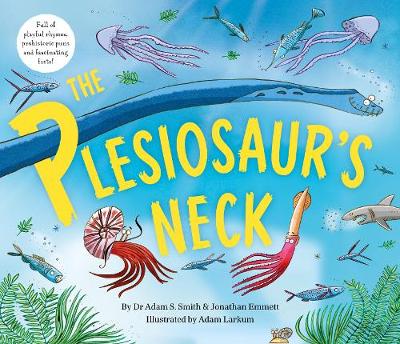 By Author / Illustrator
Jonathan Emmett, Dr Adam S. Smith, Adam Larkum
Genre
Non Fiction
Age range(s)
7+
Publisher
UCLan Publishing
ISBN
9781912979424
Format
Paperback / softback
Published
06-05-2021
Synopsis
"There's one thing about her that's hard to ignore, THAT RIDICULOUS NECK! What on Earth was it for?"
Poppy the plesiosaur had a preposterously long neck - but what was it for? Did she use it to pluck off pesky parasites, to zap predators with electricity or to ambush unlucky fish?
From the brilliant minds of world-renowned plesiosaur expert Dr Adam S. Smith, award-winning author Jonathan Emmett and illustrator Adam Larkum.
Reviews
Lucy
A lovely book! The Plesiosaur's Neck starts with a double page introducing the characters that are involved including Poppy Plesiosaur, Alfie Ammonite and Bella Belemnite. As the story starts, it introduces Poppy Plesiosaur by explaining how she would have moved through the ocean as well as the similarities in her body to other ocean creatures. It explores the different possibilities of how her body may have worked, asking questions to get children thinking. At the end of the story, there are some pictures of other creatures from the cretaceous period to allow children to explore further with their own research and it has a brilliant glossary to explain any difficult or unfamiliar words.
Throughout the story, text boxes are used to give chunks of factual information about plesiosaurs as well as different plants and animals of that time and how they would have lived. Each page is covered in colourful illustrations with many characters having speech bubbles which will help to bring them to life as children are reading. The story also uses rhyming words which the children love - it gives it rhythm and keeps them engaged. A lovely book for all children, especially those who are captivated by dinosaurs and other extinct animals!
Picture book / Reviewed by Lucy Newton, teacher
Suggested Reading Age 7+
Other titles