The Quickest Bedtime Story Ever!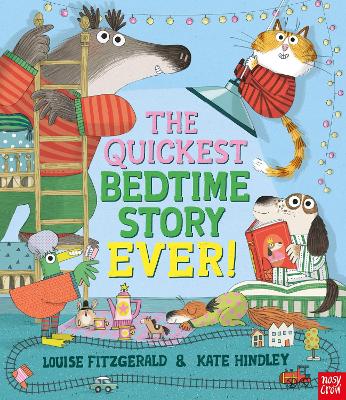 By Author / Illustrator
Louise Fitzgerald, Kate Hindley
Genre
Funny Stories
Age range(s)
3+
Publisher
Nosy Crow Ltd
ISBN
9781839946806
Format
Paperback / softback
Published
06-07-2023
Synopsis
Welcome to the quickest bedtime story ever - it's only ten words long! Your little one will be asleep in seconds. But wait! There are a couple of things you must do first. Have you plumped up the pillows? And colour-co-ordinated the teddy bears? Getting ready for a story is a very important business, I'll have you know...
Ingenious, inventive, and interactive, this laugh-out-loud picture book is guaranteed to become a bedtime favourite. From debut author Louise Fitzgerald and bestselling artist Kate Hindley, winner of the Sainsbury's Children's Book Award and Oscar's Book Prize in 2021.
Every Nosy Crow paperback picture book comes with a free 'Stories Aloud' audio recording. Just scan the QR code and listen along!
Reviews
Ashley
I read The Quickest Bedtime Story Ever with a class of Y5 children and asked them to review it for KS1. All the class loved it! They said in their reviews that they would recommend it to all KS1 children too, but also said it is a book for older children as it made them laugh out loud!
All the children loved joining in with the actions and it was great to see lots of hands in the air stretching and every child yawning loudly. The two ten-word stories at the end were great and I know this is something that Y5 wanted to have a go at, too. A lovely book, great illustrations, that will make children of different ages interact with the story on may levels and also laugh out loud.
Picture book / Reviewed by Ashley Clayton, teacher
Suggested Reading Age 5+
Joanne
The Quickest Bedtime Story Ever! is a fun, interactive, silly bedtime book with an original concept. The illustrations are really lovely with an array of cute characters getting ready for bed. The book goes through things you need to do before your bedtime story and my daughter has enjoyed tucking her teddies in tight and following along with the tasks in the bedtime story preparation.
We've enjoyed reading it as one of our bedtime books each night but sometimes I feel it is a little bit too interactive to read before imminent sleep as it encourages actions and a voice warm up, but my daughter loves it!
Picture Book / Reviewed by Joanne Thomas
Suggested Reading Age 3+
Other titles