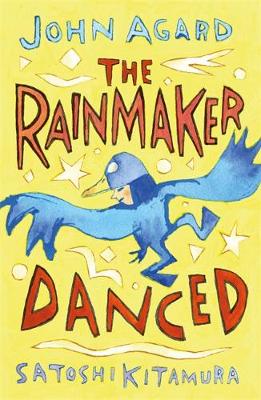 By Author / Illustrator
John Agard, Satoshi Kitamura
Genre
Adventure
Age range(s)
9+
Publisher
Hachette Children's Group
ISBN
9781444932607
Format
Paperback / softback
Published
21-09-2017
Synopsis
A wonderful new anthology of poems by winner of the Queens Medal and the Eleanor Farjeon Award, 2016
Do triangles
ever get into a tangle
when their sides meet their angles?
A wonderful new children's poetry collection, from a celebrated, award-winning poet.
From nature and science to identity, prepare to be transported on a journey through past and present. This collection from John Agard, winner of the Queens Medal and the Eleanor Farjeon Award, explores the wonders of the world - inviting your child to ponder life's questions with lots of fun along the way!
Reviews
Alison
The Rainmaker Danced is another wonderful collaboration between the irrepressible John Agard and illustrator Satoshi Kitamura. As ever, Agard's themes are wide-ranging and thought provoking. The Rainmaker in the title is none other than a shape-shifting duck as we learn in the witty 'The Rainmaker danced' (p.12). The dancing rainmaker is depicted in full colour on the cover (in vibrant blue and yellow: this is a book that begs to be opened) and then sprawls in ungainly fashion across the double-page spread of this poem. There's another ungainly animal in the shape of the Moon who decided 'one night / to make a pig of herself'. Hilariously, she gives the stars the slip and makes her way 'down sky's staircase' where she has to learn to 'drool and slobber' until 'wallowing was as easy as waxing and waning'. Her secret habit yields a litter of moonlings! As we would expect, Agard delights with dealing out unexpected images and ideas. 'Who'd want to steal dew?' starts 'The Dew Stealers' (p.15). Who indeed? Well, /'if you'd discovered / that dewdrops were heaven's pearls / or that dew meant liquid revenue /', you might be tempted! It's the juxtaposition of unexpected imagery (precious spittle of the stars) with humour (praying we're not caught on CCTV) that gives this poem its edge. Is there really space for another poem about colours (so beloved of teachers needing poems for a 'senses' theme)? Well, yes, if it's Agard's take: 'On the Run from Colours' (p18). These colours are out to get him: 'Green misled me into the woods. / Blue tried to drown me in the sea./' Kitamura's shadowy grey silhouette runs across the page, leaving the reader pondering the final problem posed by grey: 'Fog, what are you? Friend or enemy?' 'The Naming of Giants' (p.23) oozes word play and humour. A huge image of Gozzlemorebum the Gozzler stands on one page with the exuberant poem next to it. 'A giant's name ...' we are told, 'should bludgeon the tongue / with a thundering sound - / a mouthful of syllables / to be savoured and gobbled./' Children will love and want to invent more of the Dahl-esque names (Blunderbore, Blocerknob...) and the contrast with simpleton names like Jack and Jill. Agard also gives serious contemporary themes his poetic treatment. In 'Three Old Mothers' (p.54) we meet Old Mother Frost who is 'alive and well'; Old Mother Thunder who is 'in good spirits', but finally Old Mother Ozone who 'just sits and stares / into her ultra-violet mirror. / She's losing her hair layer by layer - / Cosmic doing? Or human error?' This lovely anthology will make a great contribution to a class book corner. 96 pages / Ages 8+ / Reviewed by Alison Kelly, consultant.
Suggested Reading Age 9+
Other titles