The Reluctant Vampire Queen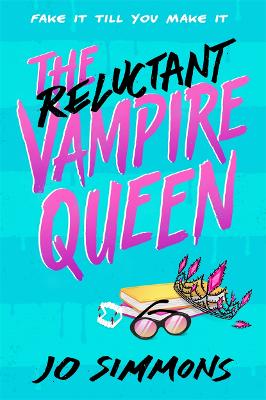 By Author / Illustrator
Jo Simmons
Genre
Supernatural
Age range(s)
11+
Publisher
Hot Key Books
ISBN
9781471411786
Format
Paperback / softback
Published
07-07-2022
Synopsis
Meet Mo Merrydrew - independent young woman, Mini Battenberg fan, president of the debating society - and reluctant vampire queen...  15-year-old Mo Merrydrew isn't exactly expecting to be asked to be Vampire Queen of Great Britain when she's cycling home from school one wet Tuesday evening. Apparently, she is 'the Chosen One'. Aside from being uncomfortable with the idea of unelected power (not very democratic), there's the blood drinking to consider (Mo is a vegetarian), and frankly it's just not really the sort of role Mo's looking for (she wants to aim for a real job in politics). But - if you're Vampire Queen, you probably don't have to do PE any more, and when the dreamy Luca, a vampire familiar, turns up, it all suddenly starts to look a bit more appealing...
Geek Girl meets Buffy in a brilliantly funny new teen series from bestselling author Jo Simmons.  See Book 2: The Reluctant Vampire Queen Bites Back.
Reviews
Lorraine
Mo Merrydrew has her life all mapped out when suddenly, one Tuesday evening, a 600-year-old vampire offers her the chance to be a Queen. The only problem is the role includes being turned into a vampire.  Mo must juggle friends, family, schoolwork, and vampires; will she manage to keep everyone happy without being turned into a vampire herself?
The Reluctant Vampire Queen is a funny, easy read and will appeal to those that enjoy humour and teen romance.  Unfortunately, I felt there were a few problems with the plot and characters. Mo is a very driven student who has planned her life meticulously and studies at every opportunity. President of the debate team and research queen, Mo immediately questions and stands her ground when faced with a strange man in a dark lane, asking for ID and doubting his authenticity. Faced potentially with a 600-year-old vampire, who has already disposed of one town member, she is calm and confident.
Throughout the book she is not cowered or particularly scared by the prospect of facing vampires and acts the part of a vampire queen with confidence, making demands and asking for signed contracts. Compare this to the Mo we find on the school bus when faced with the rather stereotypical bully and her insipid gang, or the Mo who hides things from her parents, and the character does not seem the same person.
Bogdan IS very funny as the old vampire hoping to retire but would he be fooled quite so easily by a 15-year-old girl pretending to drink blood? After all this is the same vampire that quite ruthlessly becomes crazed when on a feeding frenzy. I also found it hard to believe that Mo's best friend would jump ship to side with the bully after one or two missed chats and study sessions.
If you ignore the conflicts in characters there are some very funny moments in the book, and I can see it appealing to those who favour silly humour. I feel it is aimed at a young audience (low teens) which conflicts a little with some of the content, but not enough to classify it as young adult. The book is the first in a trilogy so this may be a good option for reluctant readers as it is light-hearted and bounces along at a good pace.
344 Pages / Reviewed by Lorraine Ansell 
Suggested Reading Age 11+
Louise
The very last thing Mo Merrydew expects on a wet Tuesday evening is to be accosted by a 600-year vampire and chosen to be Britain's Vampire Queen - but that's exactly what happens. The trouble is that vegetarian Mo has far more pressing matters on her mind, including a carefully crafted plan for her future that becoming a vampire just won't accommodate. That may be about to change when she meets the vampire's familiar, Luca, though...
The Reluctant Vampire Queen is an enjoyable exploration of friendship, budding romance and... well, vampires, following one girl's steely determination to have it all - and to protect those closest to her. Author Jo Simmons writes with incredible warmth and wit, bringing a series of characters to life. She creates a particularly relatable, intelligent protagonist in Mo: you will find yourself sympathising her dilemma, while championing her strength, resolve and compassion along the way.
Heralded as a crossover between Geek Girl and Buffy the Vampire Slayer, The Reluctant Vampire Queen will inspire readers from Key Stage Three upwards. Its themes include friendship, romance and doing the right thing, as Mo considers her future career and the work needed to achieve her dreams - well, until the vampires arrive, that is. The book would make a fun class reader, gently easing younger readers into the vampire and gothic genres.
352 pages / Reviewed by Louise, school librarian
Suggested Reading Age 11+
Other titles