The Reluctant Vampire Queen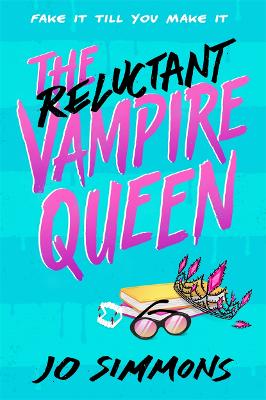 By Author / Illustrator
Jo Simmons
Genre
Supernatural
Age range(s)
11+
Publisher
Hot Key Books
ISBN
9781471411786
Format
Paperback / softback
Published
07-07-2022
Synopsis
Meet Mo Merrydrew - independent young woman, Mini Battenberg fan, president of the debating society - and reluctant vampire queen...  15-year-old Mo Merrydrew isn't exactly expecting to be asked to be Vampire Queen of Great Britain when she's cycling home from school one wet Tuesday evening. Apparently, she is 'the Chosen One'. Aside from being uncomfortable with the idea of unelected power (not very democratic), there's the blood drinking to consider (Mo is a vegetarian), and frankly it's just not really the sort of role Mo's looking for (she wants to aim for a real job in politics). But - if you're Vampire Queen, you probably don't have to do PE any more, and when the dreamy Luca, a vampire familiar, turns up, it all suddenly starts to look a bit more appealing... Geek Girl meets Buffy in a brilliantly funny new teen series from bestselling author Jo Simmons
Reviews
Louise
The very last thing Mo Merrydew expects on a wet Tuesday evening is to be accosted by a 600-year vampire and chosen to be Britain's Vampire Queen - but that's exactly what happens. The trouble is that vegetarian Mo has far more pressing matters on her mind, including a carefully crafted plan for her future that becoming a vampire just won't accommodate. That may be about to change when she meets the vampire's familiar, Luca, though...
The Reluctant Vampire Queen is an enjoyable exploration of friendship, budding romance and... well, vampires, following one girl's steely determination to have it all - and to protect those closest to her. Author Jo Simmons writes with incredible warmth and wit, bringing a series of characters to life. She creates a particularly relatable, intelligent protagonist in Mo: you will find yourself sympathising her dilemma, while championing her strength, resolve and compassion along the way.
Heralded as a crossover between Geek Girl and Buffy the Vampire Slayer, The Reluctant Vampire Queen will inspire readers from Key Stage Three upwards. Its themes include friendship, romance and doing the right thing, as Mo considers her future career and the work needed to achieve her dreams - well, until the vampires arrive, that is. The book would make a fun class reader, gently easing younger readers into the vampire and gothic genres.
352 pages / Reviewed by Louise, school librarian
Suggested Reading Age 11+
Other titles