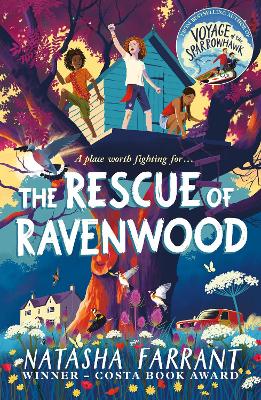 By Author / Illustrator
Natasha Farrant
Genre
Environment
Age range(s)
9+
Publisher
Faber & Faber
ISBN
9780571348787
Format
Paperback / softback
Published
23-02-2023
Synopsis
From the Costa Award winning author of Voyage of the Sparrowhawk comes an epic adventure with a call to arms: we must fight to save the most treasured things on our planet.
On the top of the hill, overlooking the sea, that's where you'll find a magical place . . . To Bea and Raffy, Ravenwood is home. In its own way, the house rescued them, even if it did have a fallen-down tree taking up most of the kitchen. So the idea that it could be sold. Demolished even. Well, that's unthinkable. Then again, it's not like the children get a choice. But the truth is, we can all make our own choices, especially if we care enough . . .  A beautiful, soulful, exciting story about holding onto what's precious, and guarding the extraordinary nature that surrounds us.
Praise for Natasha: 'Compelling, joyous, tear-jerking and delightful.' The Sunday Times.  'A modern classic.' The Guardian.  'It deserves prizes.' New Statesman
Author Natasha Farrant reads from The Rescue of Ravenwood
Reviews
Beverley
Due to complicated family circumstances, 11-year-old Bea has lived all her life with her Uncle Leo, his partner Martha, and Martha's son Raffy, with only infrequent visits from her actual parents. She loves her life at Ravenwood, the old house owned by Leo and his two brothers. Surrounded by forests and close to the sea, the house is a perfect place to grow up, and Bea and Raffy spend most of their time outdoors enjoying the beauty and peace around them. The summer is just beginning and they have big plans, including building a tree house in their favourite tree Ygdrasil. Four hundred years old, the tree stands at the entrance to Ravenwood and is "like a guardian spirit".
When Bea and Raffy are joined by another girl, Noa, she becomes part of the gang and all seems set for a wonderful time. But there are changes in the offing; Uncle Jack arrives on a visit from his home in Costa Rica. Then, Bea's parents take her abroad on holiday, and Raffy discovers a family member he never knew existed and goes to London with Martha to meet them. Left alone at Ravenwood, Noa finds herself caught up in events beyond her understanding, and has to cope with the consequences. When the children hear that the very existence of Ravenwood and their beloved Ygdrasil is in danger, they know that they have to come up with a plan and work together to save their happy home.
I loved The Rescue of Ravenwood! Beautifully written, it has a timeless feel to it, reminding me of the adventure stories I enjoyed as a child. The three children are all wonderful characters. Bea is loyal and resourceful. She loves her parents and wants to please them, but by doing so she risks losing the only home she has ever really known. Her love for Ravenwood is so strong that he will do anything to protect it - even if it means putting herself in danger. Raffy is clever and loves nature. Having grown up with Bea since they were babies, they have a strong bond; he sees her as his sister and cannot bear the thought of them being separated. Noa is suffering the aftermath of her parents break up and is finding it hard to settle into a new school, so she is delighted to become friends with Bea and Raffy.
The story is well plotted and fast-paced, moving from Yorkshire to Venice and London. The author cleverly gives the reader little hints as to what is going to happen, making the novel a real page turner. The finale of the book is really exciting, with the children proving to be twice as resourceful as the adults who are bringing them up! With its strong themes of family, friendship and the importance of the environment, it is a truly lovely novel and I am sure that it will be enjoyed by anyone who is lucky enough to read it.
352 pages / Reviewed by Beverley Somerset, school librarian
Suggested Reading Age 11+
Sue
Ravenwood has been home to Bea and Raffy for as long as they can remember. To them, it's perfect, so when faced with the idea it could be sold, the children are determined to save it no matter what. Natasha Farrant crafts the most beautiful stories which are full of heart and hope and in The Rescue of Ravenswood, she has captured the essence of the love of home and belonging, the topsy-turviness of family - however that is formed - and how special places can be.
Bold and brave, Bea is in her element at Ravenwood. However, she struggles with feelings of rejection by her parents, feeling she can never be the person they want her to be. Although not her 'real' sibling, Raffy and she are incredibly close, enjoying a special bond and balancing each other's personalities. When Noa arrives, the dynamic between them changes and what was supposed to be their perfect summer seems threatened.
Each character in The Rescue of Ravenwood is full of personality and easy to engage and empathise with. Ravenwood is special to the children in the way in which many people will be able to relate to the places in their lives, places which are worth fighting for and worth preserving for future generations. As the children bring everyone together to save their most precious place, certain truths come to light and 'everything changes, but everything stays the same'.
There is so much to enjoy about this story. Natasha Farrant always offers something special and The Rescue of Ravenwood is a real treasure.
352 pages / Reviewed by Sue, teacher
Suggested Reading Age 9+
Other titles