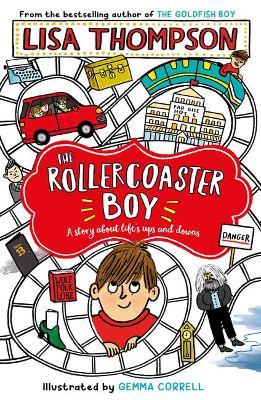 By Author / Illustrator
Lisa Thompson
Genre
Mental Health & Wellbeing
Age range(s)
9+
Publisher
Scholastic
ISBN
9780702301599
Format
Paperback / softback
Published
06-01-2022
Synopsis
'A warm-hearted, involving story about a mystery explored by a group of unlikely friends in a run-down seaside hotel. The feelgood ending is about kindness and seeking help when you need it' Nicolette Jones, The Sunday Times.
Todd and Laurie's dad is either on top of the world, taking them on fun adventures, or down in the depths and sleeping all the time. One night, he bundles them into the car and drives them to the Paradise Hotel. He paints a picture of a luxurious mansion by the sea, but the reality is a rundown dump and the disappointment means Dad takes to his bed. Todd and Laurie have the run of the place and meet Scout, the daughter of the owner, who tells them about the night many years ago when a famous novelist vanished from her room on the top floor, which was locked from the inside... with clues to crack, a mystery to solve, and Dad to worry about, this holiday is full of twists and turns.
A sensitive, empathetic portrayal of having a parent with bipolar. Funny, moving and brilliantly plotted - a true page-turner.
Reviews
Beverley
In The Rollercoaster Boy, Lisa Thompson gives us a beautifully written, sensitive account of a young boy's struggle to cope with his father's mental health problems, and combines it seamlessly with an exciting mystery.
Todd is 12, and his sister Laurie is six. Their parents are separated and, at the beginning of the book, their mother is working abroad so they are living with their father, who is clearly suffering from an unspecified mental health issue. Sometimes he is unable to get out of bed, and then he becomes manically cheerful and acts on crazy impulses.
One such episode leads him to wake Todd and Laurie in the middle of the night and drive them to the Paradise Hotel for a 'holiday'. Once there, Dad stops taking his medication and retires to bed, leaving the children to their own devices. Todd and his sister team up with Scout, the daughter of the hotel owner, and Patrick, son of another guest, to try and solve the mystery of the disappearance many years ago of Edwina Patterson, a famous author and Scout's great-great grandmother. They also want to save the run-down hotel from the scheming developer Howard Knife.
This truly was a book I couldn't put down. Lisa Thompson introduces us to an amazing cast of characters. Todd is permanently worried about his father, whose health issues mean that Todd has to take on extra responsibilities. Laurie is a sweet girl; clever beyond her years, she proves to be a vital link in helping to solve the clues the children find in the mysterious Room 42. Scout is fabulous, strong, brave and feisty; she is determined to stop her mother from selling the Paradise Hotel, which is the only home she has ever known. Patrick seems, at first, to live a privileged life, but we learn that his father is more interested in his work than his son. Howard Knife is a great villain, sneaky and nasty, but he is no match for Todd and his gang!
Throughout this brilliantly plotted novel, the author cleverly gives us flashes of insight into Todd and Laurie's life with their father. Todd tries to keep everything together, but Dad's issues come to a dramatic head and he realises that he must ask for help. The conclusion to the book ties up all of the different threads of the story in a very satisfying manner.
I can highly recommend this book; it delivers on so many levels. It is a lovely portrayal of a family who, despite their problems, support and love each other. It is also a clever and intriguing mystery with enough twists, turns, clues and red herrings to keep the reader totally enthralled. And there may (or may not) be a werewolf in it! Who could ask for more?
352 pages / Reviewed by Beverley Somerset, Retired School Librarian
Suggested Reading Age 9+
Other titles