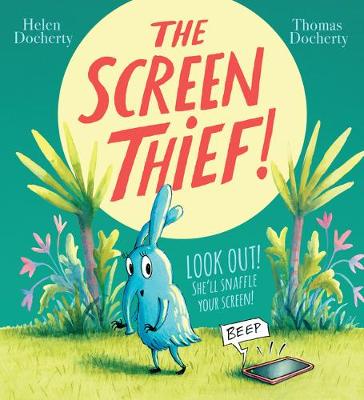 By Author / Illustrator
Helen Docherty, Thomas Docherty
Genre
Picture Books
Age range(s)
5+
Publisher
Scholastic
ISBN
9781407199153
Format
Hardback
Published
03-06-2021
Synopsis
Look out! There's a Snaffle about, and she'll eat your screen as a snack! When the Snaffle arrives in the city, she just wants to play, but everyone's too busy staring at their screens. The Snaffle discovers that she likes screens, too - as a snack! When she chomps down every last screen in the city, that's when the fun really starts . . . Screens away, it's time to play in this warm, funny, and very timely tale from the creators of The Snatchabook.
Reviews
Ashley
Loved it! What a brilliant picture book with such a powerful message for the children from The Snaffle, made even better in that the story rhymes! I think it's message is suitable for all primary school children, in that there are much better things to do in life than stare at a phone or a screen! I read The Screen Thief to Year 1 and Year 2 children who wanted to hear the story again, and there was a great discussion about why staring at a screen all the time is not good for you.
In today's world of technology, sometimes children lose the fact that talking to friends, laughing, playing and sharing jokes can give them so much pleasure. The key theme in the book is making sure the children do not spend all their time on a screen and instead spend time interacting with other people and other children and gaining social, personal and emotional skills.
The Snaffle really did bring the city back together, and made the children think about what is the right choice. And as one of the children said, "I learned I need to play with my friends more and take time away from my screen." A must have book and read in all primary classrooms.
Picture book / Reviewed by Ashley Clayton, teacher
Suggested Reading Age 5+
Other titles