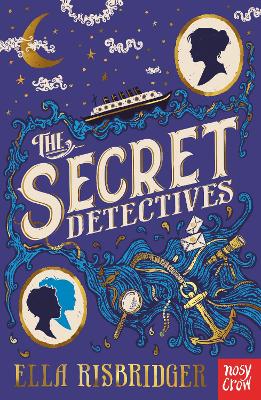 By Author / Illustrator
Ella Risbridger
Genre
Mystery & Detective
Age range(s)
9+
Publisher
Nosy Crow Ltd
ISBN
9781788006002
Format
Paperback / softback
Published
03-06-2021
Synopsis
A gripping, beautifully written historical mystery, from an incredible new voice in children's fiction.
'The body seemed to fall for a long time. There was no splash, or if there was it was lost in the waves. Isobel was frozen to the spot for a moment - and then her common sense caught up with her, and she stepped back quickly into the shadows.'
When Isobel Petty is orphaned, she finds herself being taken away from her home in India and sent to live with a distant uncle in England. On board the S.S. Marianna, she witnesses a shocking act - somebody being thrown overboard in the middle in the night. But when the ship's captain insists that nobody is missing, Isobel and her two new reluctant friends must solve two mysteries - the identities of both the murderer and the victim - before they reach England and the culprit has the chance to escape.
Inspired by The Secret Garden and the golden age of crime writing, The Secret Detectives is perfect for fans of Robin Stevens and Katherine Rundell. "A thoroughly entertaining mystery and a heartening story of friendship. I loved it." - Katherine Woodfine, author of The Mystery of the Clockwork Sparrow.
Reviews
Donna
The Secret Detectives is set upon the mail ship SS Mariana, sailing from India to England. The passengers include three children whose lives are to be forever entwined by events on the journey. 11-year-old Isobel Petty has been brought up by people employed by her mother and father. Her mother didn't interact with her and left it to others. Letitia Hartington-Davis and her little brother Horace, are on board also - their mother charged with escorting Isobel to England (after her mother and father had died), where her uncle would be waiting for her. Letitia's father is Colonel Hartington-Davis and her mother is highly strung and is prone to 'headaches' at the drop of a hat. Also travelling back to England - returning to school - is Sam (Sameer). His father is a very important and highly esteemed man. Sam's mother is dead.
One dark, stormy night - before they have even met one another - Isobel and Sam witness a murder. They are at first shocked and can't believe what they have just seen. Then they begin their investigation into who not only the murderer is, but also the victim. This is the beginning of what seems to be the start of an ever-bonding friendship.
Set in colonial times, the story covers many inequalities amongst societies. The injustices that the poor and the way people who were deemed 'different' from the 'white high society' of Great Britain are highlighted and thoughtfully written about by Ella Risbridger. As the story develops, it is lovely to see how the dynamics between the three children changes. Sam is a gem! My favourite character by far in the book. He is first and foremost a wordsmith, but so much wiser than his years. The way he seems to quell the tension between Isobel and Letitia sets him out as a wonderful role model for children. Isobel's defence mechanism is to hate everything - people, reading, playing and almost everything else. She probably behaves like this due to her being left by her parents to do her own thing. Then by finding herself orphaned and shipped off to a country she has never been to and an uncle she has never met. How her character develops maturity and empathy throughout the book is a pleasure to see.
A brilliantly written book (Risbridger's debut children's book) which many will enjoy.
330pages / Reviewed by Donna Ritchie
Suggested Reading Age 9+
Lucy

- Age 11
This book is about a girl called Isobel Petty. Isobel sees a terrible act! Somebody was thrown off the ship! But the captain didn't believe her so Isobel and her reluctant friends decide to investigate. I recommend this book for people who like mystery/investigation books. I rate this book 3/5 because it was interesting and adventurous. I think what missed the 2 marks were the way people were treated.
Suggested Reading Age 9+
Josh

- Age 11
I liked it a lot but it was a challenge to figure out who committed the crime! I actually thought it was every person except for the actual criminal! Anyone who likes murder and detective books needs to read this book.
Suggested Reading Age 9+
Benhur

- Age 10
I recommend The Secret Detectives to detective lovers aged 8-12 years old. It is about a girl named Isobel Petty who witnesses a horrific deed - someone being thrown off the S.S. Mariana. Isobel and her two new friends (Sam and Lettie) have a mission to find the culprit before they arrive in England and he/she can escape. This book tells you about friendship and its properties.
Suggested Reading Age 9+
Linda
The Secret Detectives is a historical mystery, set on a ship sailing from India. When orphan Isobel sets sail on the S.S. Marianna, the last thing she expects is to make new friends... or to solve a murder! Thrust into a world she doesn't understand, Isobel must catch the murderer before the ship docks. On the way, she will uncover dark secrets, dangerous lies and unlikely allies.
The Secret Detectives felt like a cross between a Famous Five book and a game of Cluedo. There were red herrings a plenty and the plot had many unexpected twists and turns. It was totally unpredictable and it kept me guessing throughout. Any young detective will be thrilled to attempt to unravel this complex and dangerous murder mystery.
There was a diverse cast of characters, showcasing the different positions in society at the time. Issues with race and class were dealt with beautifully and Sameer is a powerful character to help the children empathise with the clear inequalities of the Victorian time period. Whilst elements of The Secret Detective appealed to me - the unpredictability, the commentary on social and gender norms of the time and the blossoming friendships, I did find it rather difficult to get through. It felt a little drawn out and I didn't particularly warm to the main characters. There were lots of positive things about the book, however, so I am sure it will be enjoyed by many young readers, particularly fans of the Murder Most Unladylike series.
330pages / Reviewed by Linda Canning, teacher
Suggested Reading Age 9+
Other titles