The Secret Life of Bees: Meet the bees of the world, with Buzzwing the honeybee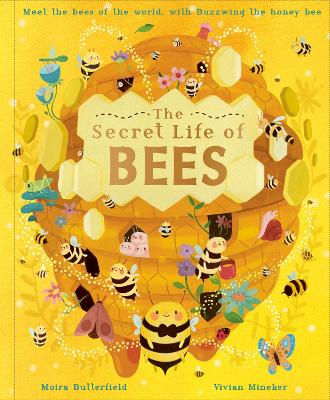 By Author / Illustrator
Moira Butterfield, Vivian Mineker, Vivian Mineker
Genre
Non Fiction
Age range(s)
5+
Publisher
Aurum Press
ISBN
9780711260498
Format
Hardback
Published
20-04-2021
Synopsis
Follow Buzzwing the honeybee on a beautifully illustrated journey through the world of bees filled with amazing science and intriguing folklore.

Did you know that bees love to dance? Or that they have an amazing sense of smell to help them find the best flowers? In The Secret Life of Bees, Buzzwing shares with you all the details of her life as a bee, in and out of the hive, starting with the day she was born.

Learn the secrets of this worker bee's tiny world, including: The bee life cycle; Bee anatomy; How bees collect nectar and make honey; What happens inside the hive; The different types of bees; Why bees are so important to humans; How bees can thrive in the city; Bee folk tales from around the world.
With things to search for and find throughout, tips for making your own environment welcoming to bees and even a poetry-writing exercise, The Secret Life of Bees is brimming with reasons to admire and respect the hardworking honeybee.

Sumptuous and detailed illustrations have pride of place in this magical guide to bees that mixes natural history with a splash of fantasy - a book to be pored over time and again.
Reviews
Amanda
Follow Buzzwing the honey bee on an unforgettable journey as you discover the secrets of the busy, buzzing world of bees. This is a beautifully written and illustrated book is packed full of information, stories from a range of cultures and cute characters to spot as you travel through the world of bees. Did you know that bees love to dance? They have an amazing smell and come in all shapes and sizes.
This beautifully written book contains stories from India, Europe, North America, Thailand, Australia and Greece. There is truly something for everyone. It would be a bee fanatics dream. Young children will love spotting the creatures as this book is shared with them.
KS1 children upwards would enjoy reading this colourful, well illustrated book as it is a mixture of both fiction and non-fiction texts. Definitely a worthwhile investment for any book corner or school library.
48 pages / Reviewed by Amanda Shipton, teacher
Suggested Reading Age 5+
Other titles