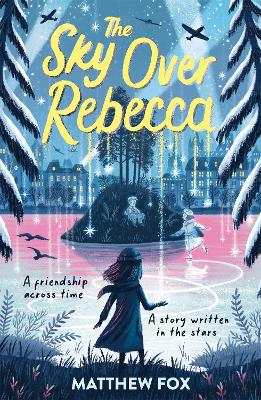 By Author / Illustrator
Matthew Fox
Genre
Adventure
Age range(s)
9+
Publisher
Hachette Children's Group
ISBN
9781444964707
Format
Paperback / softback
Published
14-04-2022
Synopsis
There was a single trail of footprints, the first I'd seen all morning. They were fresh tracks, I saw, the edges of the impressions in the snow quite hard. Small feet. Like mine. Someone my age.
Then they stopped.

When mysterious footprints appear in the Stockholm snow, ten-year-old Kara must discover where they've come from - and who they belong to. They lead Kara to Rebecca, a thirteen-year-old Jewish girl, and her younger brother Samuel. Kara realises they are refugees - from another time, World War Two - and are trying to find their way home.  The grief and loneliness that Rebecca and Samuel have endured is something Kara can relate to - feeling like you're always on the outside looking in - and she finds herself compelled to help them. Through her eyes, we rediscover the magic that lies in the world around us, if only we have the courage to look for it.

Kara is a heroine for modern times: fragile but fierce, in this utterly compelling story from a stellar new voice in children's literature, Matthew Fox
Reviews
Donna
The Sky over Rebecca is a story which combines two different places and times. Kara lives in Stockholm with her mum, who works extremely hard and means that Kara has a lot of looking after herself to do. However, her grandad lives not far from her home and Kara visits and speaks to him regularly.
Rebecca and her younger brother, Samuel, live in a different time - during WWII . They are Jewish refugees; alone and fending for themselves. The appearance of a snow angel with no footprints in the snow leading to or from it, intrigues Kara. Who made it and how?
The story includes quite a sad - but also happy - episode in the book which brought a tear to my eye. What an excellent debut children's novel from Matthew Fox. It is a story full of compassion, loneliness, hate, love and self-discovery.
271 Pages / Reviewed by Donna Ritchie, teacher
Suggested Reading Age 9+
Other titles