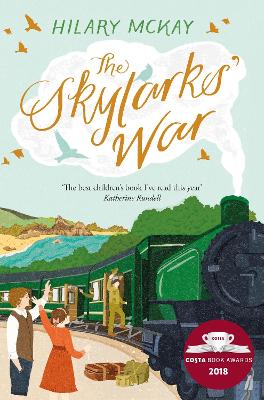 By Author / Illustrator
Hilary McKay
Genre
Historical Fiction
Age range(s)
11+
Publisher
Pan Macmillan
ISBN
9781509894963
Format
Paperback / softback
Published
27-12-2018
Synopsis
Winner of the Costa Children's Book Award 2018.

The Skylarks' War is a beautiful story following the loves and losses of a family growing up against the harsh backdrop of World War One, from the award-winning Hilary McKay.

Clarry and her older brother Peter live for their summers in Cornwall, staying with their grandparents and running free with their charismatic cousin, Rupert. But normal life resumes each September - boarding school for Peter and Rupert, and a boring life for Clarry at home with her absent father, as the shadow of a terrible war looms ever closer.

When Rupert goes off to fight at the front, Clarry feels their skylark summers are finally slipping away from them. Can their family survive this fearful war?
Reviews
Sue
When Clarry is born, her mother dies and her indifferent father leaves her and her brother, Peter, to be raised by a series of housekeepers and well-intentioned neighbours. They long for their summer holidays in Cornwall where, largely ignored by their grandparents, they roam free with their cousin, Rupert who they adore.

Back home, Peter shares all he learns at school with Clarry - who is not considered worth a proper education - until boarding school is forced upon him. As war approaches and Rupert leaves for France, their world changes forever.

This is an amazing story, destined to be a classic. Following Clarry from her birth to adulthood, the book explores family relationships against the backdrop of the first world war. Each character is beautifully developed, fully engaging the reader emotionally as their lives unfold. Clarry is delightful, remaining positive and caring in the face of neglect and indifference, devoted to her bother and cousin, and determined to succeed in the face of all adversity. Gentle, loyal Simon, Peter's school friend, adds great poignancy to the story, sensitively exploring social attitudes of the time.

The Skylarks' War is a touching story, full of vivid description and historical detail. Excellent!

320 pages / Ages 12+ / Reviewed by Sue Wilsher, teacher.
Suggested Reading Age 11+
Other titles