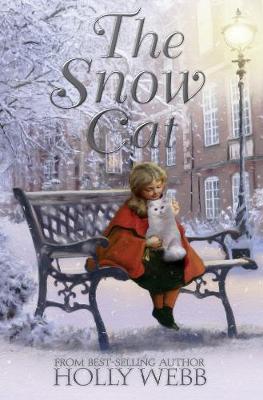 By Author / Illustrator
Holly Webb
Genre
Adventure
Age range(s)
7+
Publisher
Little Tiger Press Group
ISBN
9781847156631
Format
Hardback
Published
08-09-2016
Synopsis
From best-selling author Holly Webb comes a heart-warming winter tale just in time for Christmas.
Bel feels apprehensive about spending the lead-up to Christmas with her grandma at Lamont House, a sheltered housing complex converted from a grand Victorian home. The mansion is beautiful, but eerie, too with its moving shadows and odd noises. One night, Bel is sure she sees a cat wandering across the grounds, even though there are no pets allowed. She follows its footprints through the snow and is transported into the past. Here, she discovers Charlotte, a Victorian girl her own age. Charlotte's little sister, Sara, is very ill. Charlotte has been searching for Sara's cat, Snow. She hopes the reunion with her pet might make Sara better. Bel is desperate to help find Snow, but the cat is nowhere to be found, and time is running out...
Reviews
Rosaleen
This is a beautifully presented hardback , just perfect for winter reading with its snowy scene and silver lettering. It tells the story of 9 year old Bel whose grandmother has just moved into some sheltered accommodation which has been converted from an old Victorian mansion with extensive gardens. Bel is feeling a little sad and unsettled about Gran moving out of her old house and we get the feeling that Gran, too, is trying hard to adjust to her new home. They come across some old photographs reproduced in the accommodation brochure, including one of a sad faced girl in old fashioned dress, holding a big white cat, and also a brief history of the house. During a stay with her Gran while her parents go away before Christmas, Bel encounters a strange white cat in the gardens and is led into a delicious time shift adventure in which she meets the girl in the photo and finds out why she looks sad. This is a great read for girls Y3/4 and possibly older who love animal stories with added mystery. It is strongly redolent of Philippa Pearce's Tom's Midnight Garden and would be a perfect 'gateway' story to this classic. Excellent for reading aloud and for stimulating creative writing. 160 pages / Ages 7+ / Reviewed by Rosaleen Palmer, school librarian.
Suggested Reading Age 7+
Other titles